Do you follow what's in your heart? If so, stop. Do you trust what's in your heart? If so, stop. Do you go with the crowd that says "listen to your heart…it'll tell you what's right"? If so, stop. In this life you will never get all your heart desires because your heart desires God. What?! Read on…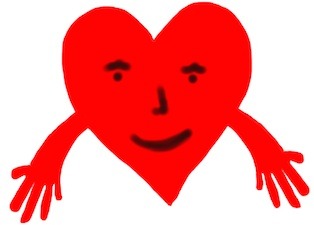 Yes, your heart desires God…even if you're a full-blown atheist. Even if you've never heard of the God of the Bible. Even if you don't know what the word "God" means. You were created by God, and He put eternity in your heart. Eternity exists because God exists. Therefore, He put the knowledge of his existence in your heart.
Choosing to turn your heart away from God will not erase your knowledge of eternity. And if you choose not to humble yourself, you will choose yourself as god. You will then seek out all your heart desires in the things of this world. You will be focused on "creation"…not the Creator. You will be like countless before you…over and over again committing the original sin…trying to "be like God". And you will never get all your heart desires apart from God.
Here's an idea. Since you're reading this it means you still have time. It's not too late. This world is still turning, and you're still breathing, so try this…read the Bible. If you don't want to read the whole Bible, start with the New Testament and read the Epistles of Paul. I guarantee you'll find a God who loves you so much He was willing to take on human flesh and pay the price for your mistakes. He literally died for you…and me.
If you find some other kind of God, would you contact me and let me know. Because I certainly don't want to worship a God who's just plain mean and evil. I don't want to follow some "prophet" who professes a worldview where love doesn't enter. Tell me if you don't see a God who wants you to have all your heart desires. We can talk about it.
Stay tuned…