A Little Understanding Goes A Long Way
Have you ever been in a situation where you just wished you could get a little understanding from someone and you weren't getting it? If you're a human being living on planet earth, I'm guessing you have.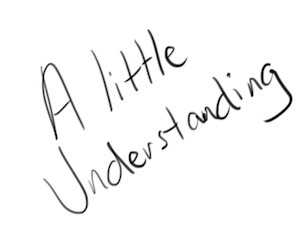 You're certainly not alone in that situation. I know I could use a little understanding more times than I'd like to mention. And many times I didn't get what I was hoping for.
If you truly care about your neighbor, your fellow human being, you focus on understanding them. You realize they're in a broken world, too. They need to find faith, hope, and love they can depend on. They need the Spirit of God just as much as you. It isn't always easy to focus on someone else's needs, especially when their selfishness brings out the worst in them. But, if you're to be as God would have you be, you keep working at it.
In Proverbs 16:22 you'll see that God says "understanding is a wellspring of life to him who has it". So, you see…a little understanding is just as good for you as it is for the person you're giving it to. Today I'd like to urge you to show a little more restraint when that other person's selfishness pushes you to the edge. Before you lash back out at them…see if you can find out what's hurting them. If they're willing to open up, you'll gain a little more understanding and you might just open up your wellspring as you do.
Understanding
It isn't always easy.
It isn't always hard.
The choice is yours to play
The winning or losing card.
It isn't always visible.
It isn't always hidden.
There is a light so beautiful,
You'll think that it's forbidden.
Oh, I believe in understanding
In understanding each other.
Sooner or later we'l find the key
The key to the heart of our brother.
It isn't always peaceful.
It isn't always loud.
Sometimes you find yourself alone.
Sometimes you're in a crowd.
It isn't always happy.
It isn't always sad,
And with a little understanding…
It isn't always bad.
Copyright © Tony Funderburk 1978 (August 24)
Now…enjoy this song about the One who understands you best…

Podcast: Play in new window | Download
Tune In On iTunes Apple Podcasts | Android | Email | Google Podcasts | Stitcher | TuneIn | Spotify | RSS | More
Stay tuned…