Contrary to the popular old saying…love does not conquer all. The existence of hell proves my point. I can love you with all the Christian love I can muster, and you might still despise and even hate me. And there's nothing I can do about it if you do. I can't force my will over your own. So…what do you do when love is not enough to save someone from a fate worse than death?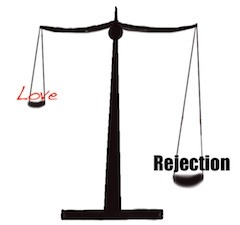 You let them go.
When I was 13, I listened to my Grandmother tell me the story (for the millionth time it seemed) of how Jesus died for me so that I could have eternal life. But, at 13, I chose to accept His love for me, and I'm eternally grateful to my Grandmother for not giving up on me…and to Jesus as well.
But here's the thing…
I could have just as easily said no. It was my choice. And here's a shocker…all of God's love for you won't save you if you don't want it to. Yep. There are millions of times…maybe even billions of times when even God's love is not enough. Wanna know why?
Because He lets you choose. He's not a maniacal control freak. He won't force His love on anyone who doesn't want it. So, everyone in the world gets to choose where they will spend eternity. God has made two places. One is with Him in Heaven forever. One is apart from Him, the source of Life, forever. Yes, either choice is a permanent one.
I can show you the love of Jesus till I'm blue in the face, but I have to acknowledge that there will be times (most times in fact) when love is not enough. And just like God…I'll have to let go. It'll feel awful, but I'll have to let go. Otherwise I'm just exercising futility and trying to force my will on others.
So…I hope you see how much I care about your life. If you haven't chosen to live with God forever, I believe I care about your life even more than you do. But…I won't mentally or emotionally beat you up over it. I'll pray for you. I'll do my best to answer questions you have. I'll share resources with you. I'll even sing to you if it'll help. I'll love you until I'm sure when love is not enough.
Stay tuned…