What I See In Me
Very often, when I look in the mirror, what I see in me isn't what I'd prefer to see. Does that happen to you?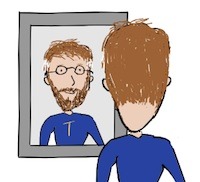 Yeah, when I look at myself with my own limited understanding, what I see in me is my less-than-pristine past. I see my limitations. The losing battle against my aging flesh and all it desires.
If you're feeling this way…or you ever feel this way…a better question to ask yourself is "what does God see in me?"
Think about that for a minute. God must see something in you worth redeeming. After all He went to a lot of trouble and suffered a tremendous sacrifice in order to provide the option of redemption to you. He was understandably angry with His creation who rejected Him. But His love and mercy extended further and stood taller than His anger.
What God sees in you is a person He made with His loving hands.
The Bible says you're fearfully and wonderfully made. That means you're not an accident, and it also means God went into such detail on your design that He even knows the number of the hairs on your head.
Today, I'd like you to be able to say…
"What I see in me, now, is the Spirit of God."
"He loves me, and that trumps every doubt I have about myself."
"I'm a child of the Living God, and I'll live with Him forever."
When you can say those things and mean them, you can know that your eternal fate is safe and secure. And isn't that better than any nagging doubt or underlying insecurities?
But if you're still wrestling with doubt…if you still have questions about how any of this could possibly be true, I'd love for you to leave me a comment below. Or email me. I'll be glad to do what I can to help you through it.
Stay tuned…