Timelessness of Eternity
Every day holds so many opportunities to witness silliness. Humans seem to have an almost infinite supply of it. And we dream up such empty notions. Just so we won't have to go where truth and evidence lead. One example I came across today was the concept of the timelessness of eternity. And I'm sure you can see the blaring oxymoron from the second you read that. Right?


Podcast: Play in new window | Download
Tune In On iTunes Apple Podcasts | Android | Email | Google Podcasts | Stitcher | TuneIn | Spotify | RSS | More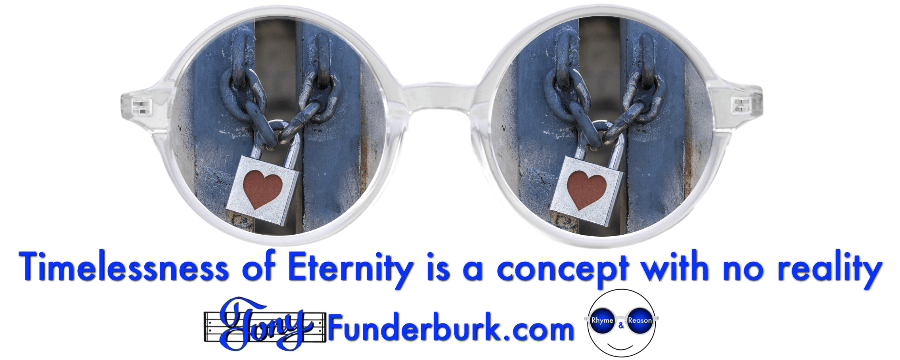 By definition, there is no timelessness of eternity.
Eternity is a long time. Time without end. A complete abundance of time. When you use words like eternity and forever, they don't even imply the concept of no time. And if you spent eternity trying to figure out and understand timelessness, how much time would have gone by?
See what's happening there?
You can't read (or listen to) this without seconds and minutes of time passing. And I can't type each individual letter to form these words in a state of timelessness. It doesn't happen here. And it can't happen anywhere else either.
Postulate, theorize, and imagine all you want. But you can't deny time. And the passing of time. Or why it exists. And always (there's another word describing time without end) will. But, for the sake of silliness, here's a rhyme about…
No Time
Not once upon no time
Nobody came to see
No movies no one made
With no affinity.
And no songs ever played
On no one's radio
While no one sang no tunes,
No words they didn't know.
And no hands ever made
No gifts, no meals, no tools.
Nobody lost no days
To bitterness and fools.
And no bells ever rang
For no sad ears to hear
While no hearts ever broke
And no eyes shed a tear.
And no thoughts ever came
To no one's head at night.
So no one lost no sleep
Or cursed no morning light.
And no one's spirit hoped
For no God from above,
And no one ever died,
But no one lived in love.
© 2020 Tony Funderburk
Stay tuned,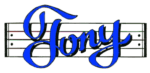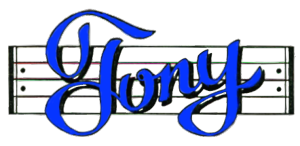 Discover my books on Amazon.com or Smashwords
Grab some Merch

Subscribe to
Rhyme and Reason with Tony Funderburk
Or subscribe with your favorite app by using the address below