1 Corinthians 13:1-13
The Greatest of These Is Love
I'm gonna show you how 13 is the luckiest number in the world. My proof is found in 1 Corinthians 13:13. There you'll discover the core message of the whole Bible… "And now abide faith, hope, love, these three: but the greatest of these is love."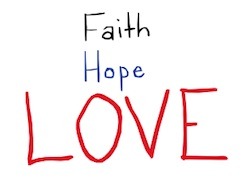 If you don't believe the message of the Bible, then I can see how it would sound like nothing more than a fairy tale. But the truth is, God created the world and offers salvation to every person through the birth, death, and resurrection of Jesus.
And you might unfortunately stumble upon most TV ministries and get the impression that Christianity is all about prosperity and "spiritual gifts". I know if I wasn't a believer, I'd see those so-called evangelists and draw the conclusion that Christianity is just another snake oil scam.
There are many on TV and radio who spend 90% of their time talking about the life-changing gifts of speaking in tongues, or prophetic utterances, or being a "faith giant" and "moving mountains"…and how you'll receive these gifts too, if you'll only sow some seeds into their ministries.
The other 10% of their time, they talk about all the good they're doing with the seeds you've sown. All this strays away from the writings of Paul, the "apostle to the Gentiles", whose words redirect the emphasis…
… "the greatest of these is love"
Paul says if I speak with the tongues of men and of angels but I don't have love…I'm just making noise. Also, he said that even if I prophesy and understand all mysteries and knowledge and even if I have faith that can move mountains…if I don't have love, I'm nothing. Paul goes on to say that even if I give all I have to feed the poor, but I don't have love…it profits me nothing. Because all things without love become nothing.
Then, leading up to 1 Corinthians 13:13 Paul describes and defines love. It's the most beautiful description of love you'll find anywhere. I urge you to read that passage. It's for everyone…believers and non-believers alike.
In a nutshell it says that love endures without envy and arrogance. Love isn't rude or selfish. And love doesn't wear its heart out on its sleeve and doesn't sit around thinking evil thoughts. Love is moral and true. Love bears, believes, and hopes all things…and love never fails.
Paul clearly illustrates how our focus should be on love and not spiritual gifts. So, he says "whether there are prophecies, they will fail; whether there are tongues, they will cease; whether there is knowledge it will vanish away. For we know in part and we prophesy in part. But when that which is perfect has come, then that which is in part will be done away."
To come to Master's table merely for what's on the table is childish. It's time to "put away childish things". It's time to love our neighbor even as we are loved by our Creator. I have faith in God, hope for His soon return, and love for Him and all He's done for me. But the greatest of these is love.
In Faith, Hope, and Love…