The Fragrance of His Knowledge
My wife is very involved with essential oils. We apply oils topically, we take them internally for their nutritional benefits, and we diffuse them to kill airborne bacteria…and their scent is awesome. This isn't an article about essential oils. I found a correlation between them and a passage in 2 Corinthians where Paul mentions "the fragrance of His knowledge".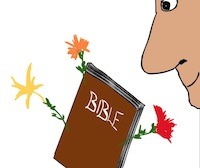 God uses those of us who love and live in Christ sort of like essential oils. He "leads us in triumph in Christ, and through us diffuses the fragrance of His knowledge". Going back to the essential oils analogy…I know some people don't actually like the scent of lavender, or citrus, or eucalyptus, or oils in general. And when Christian fragrance is diffused in the world, to some it will be "the aroma of death leading to death". But to others it's "the aroma of life leading to life". I wish that part was true for every person on earth.
As Paul said, I'm not "peddling the word of God". I believe with all my heart, soul, and mind that God's word, found in the Bible, is Truth. And I'll share it with you for free. If I never made a dime for all my efforts to spread the good news of a resurrected Jesus, I'd still feel fully blessed and honored to have the opportunity to write and sing about Him.
Whether you believe in God or not, I do. That's important for a couple of reasons. One…I know I've received the gift of eternal life. Two…I know I "speak in the sight of God in Christ". So, I know He knows what I'm saying and that I say it out of sincere love for my fellow human beings. Even if no minds are ever changed as a result of my words and music, I'll still go on writing and singing. And I pray that God continues to diffuse the fragrance of His knowledge in my life so I continue to inhale and exhale Truth.
In Faith, Hope, and Love…