The Amazing Quest of The Treasure Bible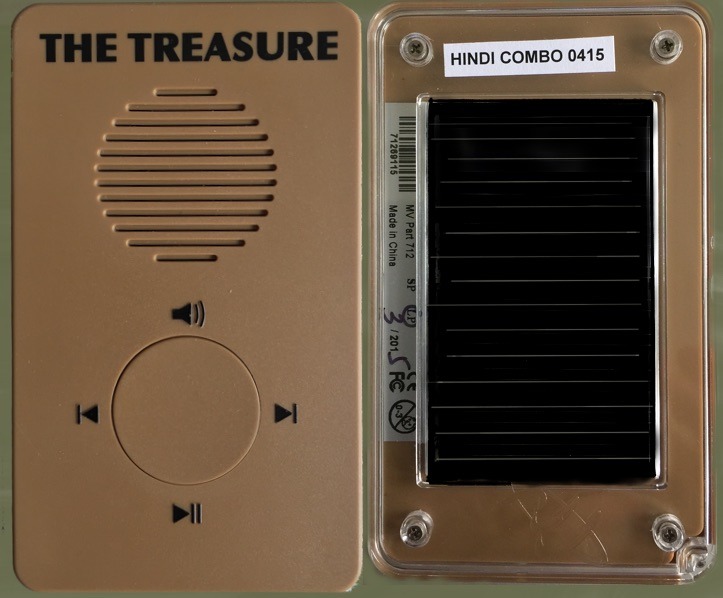 Just exactly what is The Treasure? Simple answer…a solar-powered, field-tested audio Bible. More complex answer…it's a tried and true way of getting God's word into the ears and hearts of people who might not get it any other way. The Treasure is already available in over 200 languages, and it has proved to withstand the heat of the desert, the humidity of the jungle, and even the cold of the mountains. Here's a picture of it, front and back…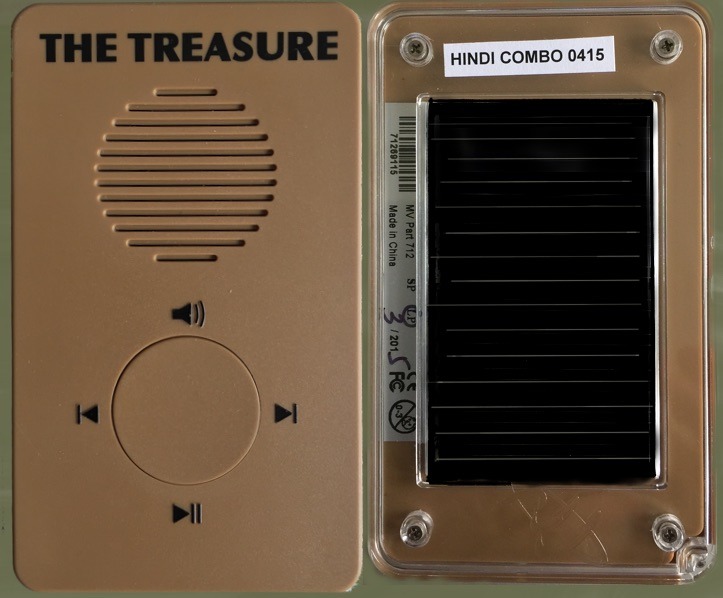 I'll be sharing some videos that show it in action. It's really a cool way to be sure "faith comes by hearing and hearing by God's word"…even to those people in all "the ends of the earth".
As you can see in the picture, the version of "The Treasure" I have to use as a live demo when people ask, is Hindi combo. I also have an English version, and there's background music, extra explanations, and readings with sound effects. Lives are being changed by these tough, little devices.
A $38 gift sends one of these units out into the field. And each one can last up to 2,000 hours. Estimates, so far, are that 100 to 2,000 people can be reached by each device. Prayerfully consider clicking on the picture (or the other picture of me holding one) and donating one or more of these Treasures. Believe it or not, even in this day of such far-reaching modern technology…billions of people still haven't heard God's word. You can help change that.
Stay tuned…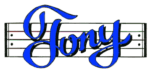 P.S. In the spirit of full disclosure…I'm an affiliate for "The Treasure" and World Mission. So, yes, I do receive compensation for recommending it. But I assure you I wouldn't recommend it if I didn't believe it's an effective tool of evangelism for God's word. And my compensation doesn't add a single penny to your cost.
OK…join me in this amazing quest for The Treasure Bible.