From the time I became a Christian, when I was 13, I've had a vision of salvation as being like crystal. What I mean by that is the clarity…the clear, clean, crystal eternal life promised to me by God. When I was closing in on 20, I even wrote a song about it called "Sparkling Salvation". I didn't do a very good job, as I read it over now, but I remember the feeling I had the day I wrote it…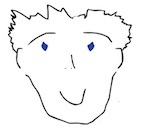 …pure. Yep, that's the feeling. I meant to describe purity and used things that sparkle to help illustrate my feeling. Tears, a china set, children's eyes…these all held special meaning for me at that time, so I put them in the lyrics. It was never a song I recorded, but as I re-read the words today I could hear the melody in my head. I never get tired of that.
If you're a Christian, what one word would you use to describe salvation? And how does thinking of that word make you feel? Write to me and let me know. Until then, here's my youthful attempt at describing…
Sparkling Salvation
Look to the clouds in the sky.
Blink all the tears from your eyes.
See how salvation arrives.
At last the moment draws nigh.
Think quick…everybody think clear.
No more living in fear.
See now that Heaven is here.
As we are here it is here.
Break out the china for tea.
Let's talk of the lives we're to live
And remember the special rule
That in order to take we must give.
Children's eyes sparkle today.
What better thing can we say
Than that they have chosen the one right Way
And made our eyes sparkle, too?
In Faith, Hope, and Love…