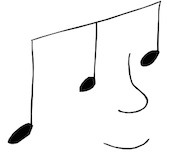 Today I'm gonna do something I haven't done in over 40 years. I'm gonna share the lyrics to the very first song I ever wrote. Ironically it's a song with no name. And I only noticed that omission this very evening. How odd is that?

I remember an chilly winter evening at a friend's house in Pasadena, Texas. There was gonna be a party with a bunch of our other friends coming over, and I had written some lyrics I wanted to turn into a song. And I wanted to be able to sing it for the others when we got things going.
The musical instrument I played at the time was a set of drums…not melodic to say the least. But my younger brother, Marty, was coming along nicely with his guitar. So I asked him to find the chords to match the melody I wanted to use. He agreed to help, and we spent a couple of hours putting the little tune together. I've always been a fan of minor keys, so it's no surprise that my first song would be in E-minor.
Wouldn't you know the song would be a love song. But I'll tell you right up front…it wasn't for any girl in particular. It was about "her"…whomever she would be.
Of course, as I look back at the lyrics of my 17 year old self, it's a bit embarrassing to share them with you. But…well…what are you gonna do? Make fun of me? Go ahead. Give it your best shot. I spent 25 years on stage performing my music and the music of other famous songwriters. So, I figure my humble first attempt must have planted a pretty good seed.
Here is that very first song with no name…
She's a person I can trust
Gonna love her, it's a must
I want you to know I'm feelin' fine
Because the truest love on earth is mine
I'll sing this song, and I'll be done
I'll sing this song, and I'll have fun singin' it.
She's good lookin'…pretty too
This ain't lies I'm tellin' you
I have found someone I can love
She must have come from Heaven above
So I'll bring you this little song
And if you want, you can sing along…with me.
Beauty's hers; so is charm
Why would anyone do her harm
There's a sweet, sweet appeal in her heart
That keeps me thinkin' of her when we're apart.
And I'll play this song like a toy
Yes, I'll play this song and enjoy…playin' it.
© Copyright Tony Funderburk 1973
Circa: wintertime
In Faith, Hope, and Love,