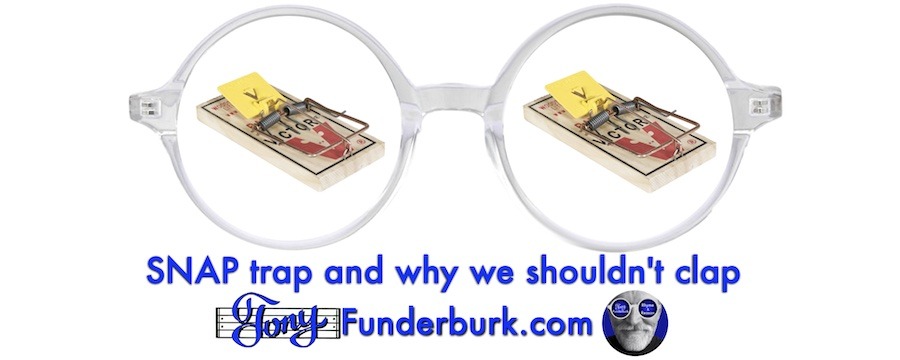 Get The Rhyme and Reason Podcast Delivered, Free Apple Podcasts | Google Podcasts | Spotify | Amazon Music | Android | Pandora | iHeartRadio | Stitcher | Podchaser | Podcast Index | Email | TuneIn | Deezer | RSS | More
I hope you haven't fallen into the SNAP trap. Because it's obviously difficult to impossible to escape. And just imagine the horror you'd face without the Supplemental Nutrition Assistance Program. Brought to you by your most benevolent and trustworthy government.
So, why do I call it a SNAP trap?
I'm glad you asked. That WAS you, right? Anyway. First, it's made to sound like a program that cares about your health. After all, the word "nutrition" is right in the full name. Second, they want it to sound like it's just to help those who just need a little boost. After all, the word "supplemental" is right in the full name. And you can supplement something if there's not something already there to supplement. Can I get an "Amen?!"
Third, they want it to sound like they want to HELP you. After all, the word "assistance" is right there in the full name. But, lurking below the surface of that idea, is their belief that you can't help yourself, those of you who fall into (or jump into) the SNAP trap.
This subject showed up on my radar because it was a trending topic on Twitter today. And as I scrolled down through just the first 6 to 12 comments, I noticed how almost nobody recognizes the trap.
Here are a few quotes. See if you pick up on what I noticed.
I'm days away from 50, I'm widowed and long-term disabled, and I can't even qualify for

SNAP

without the new work and commuting requirements. This is my refrigerator, complete w/ burned out bulb (cup of spaghetti-o's, cup of water, 6 pc. of bread):

I hope

SNAP

and Social Security recipients who've been understandably anxious over Republicans' threatened US debt default learn to NEVER vote for this cruel, extortionist party of saboteurs. GOP raised the debt ceiling 3X under Trump w/ no brinksmanship or budget cut extortion.

One point I haven't seen emphasized about the budget deal is that as far as I can tell, it's not going to involve a major hit to the safety net for children. The new

SNAP

work requirements are cruel, but they apply to childless adults in their 50s

I'm a single mom on food stamps and this is my fridge today, I don't get them again until June 10th. This is life on

snap

and I have a job too. Rep. McGovern is correct no one on

snap

is laying on the couch eating steak dinners. With republicans cruelty is the objective full stop

MAGA Republicans force birth then yank food assistance from those struggling to provide for the baby. They cut

SNAP

, WIC, and school lunches. But they happily extended tax cuts for the elite.
The first quote included a picture of the inside of a refrigerator. I'll take her word for it. But my guess is she snapped the picture on her smartphone. And last time I looked, those are kinda pricey. Minor details, Tony.
The second quote says republicans (and they probably forgot to include democrats) who sabotage government "freebies" are extortionists.
Then, the third quote mentions how "work requirements are cruel."
I agree. But not for the reason that person would attempt to justify. They ARE cruel. But that's because SNAP shouldn't exist. It's cruel to provide food to able-bodied people who don't work for it. Because it shows them you don't expect much from them. And you don't believe they can succeed without you.
The fourth quote is like the first one. Another shot inside a refrigerator. And probably snapped on a pricey smartphone. And it highlights how many people prefer to emphasize their "single mom" or single dad status. So, of course, they need a nanny. Because who wants to get married and deal with all those headaches? Especially when the most affordable nanny is Uncle Sam.
Finally, the fifth quote would be laughable if it weren't so utterly stupid. In the first place, it's highly likely that most "MAGA Republicans" don't have an issue with abortion. So, they certainly won't (even if they could) force birth on someone. Secondly, if the tax system was fair and just, you'd never need a government program's "assistance." And one HUGE way to make the tax system more fair and just would be to eliminate government schools. Because that would eliminate the evil property taxes that ensure you'll never again own a home in America.
And here's the biggest reason why the snap trap should stop.
Because these programs can only exist when the government steals from those who produce and work hard and gives some of what it steals to those who don't. Key word: "some." Politicians skim, in one way or another, from ALL the government programs. So, they're not likely to be motivated to end them. Ever!
So, people like you and me, who sell and resell stuff to provide food and shelter and transportation, are pushed to produce and work harder and smarter. On the one hand that's good. Because that's how you increase sales and profits. On the other hand, those increased sales and profits are too attractive to the greed-filled powers that be. And, so the downward cycle continues.
The solution isn't to "make your vote count." If you truly wanna do that, don't waste your precious vote on either socialist candidate you'll discover on the next ballot. Instead, seek wisdom from God. Ask for His help to tell others about the importance of knowing what happens when you die. Yeah, lay up treasures in Heaven. Where no politician or corrupt and tyrannical government will ever be able to steal them or give them to someone else.
Speaking of working and selling, I've been sharing links to one of my collections of songs for kids this week. It's called Kiddin' Around. Unless your kid is totally bonkers, he or she (and those are the only two choices) will get a kick out of 'em. So, get the lyric book and all ten songs in one download at this weird-looking link:
https://www.paypal.com/cgi-bin/webscr?cmd=_s-xclick&hosted_button_id=L6MAH2QKHU5J8
Or you can get the physical coloring and drawing songbook version with the link to the songs inside at this weird-looking link:
(https://www.amazon.com/Kiddin-Around-Tony-Funderburk/dp/B08BV18T5J)
Help make SNAP stand for Support Native American Producers.
Stay tuned,