Here's a slap in the face from a Heavenly place
God is love. Right? But is that all God is? No! He's infinitely more. I'm confident He's able to feel so much more than love and so much more than any of us. His different emotions are clearly seen in the Bible. And would you believe it? A couple of the emotions, less stressed in churches today, are hatred and anger. In fact, when you read His book, you might be surprised to see He's even willing to deliver a severe slap in the face to His enemies. And not out of love. If you prefer to listen instead of read, here's the podcast audio.
Podcast: Play in new window | Download | Embed
Tune In On iTunes Apple Podcasts | Android | Email | Google Podcasts | Stitcher | TuneIn | RSS | More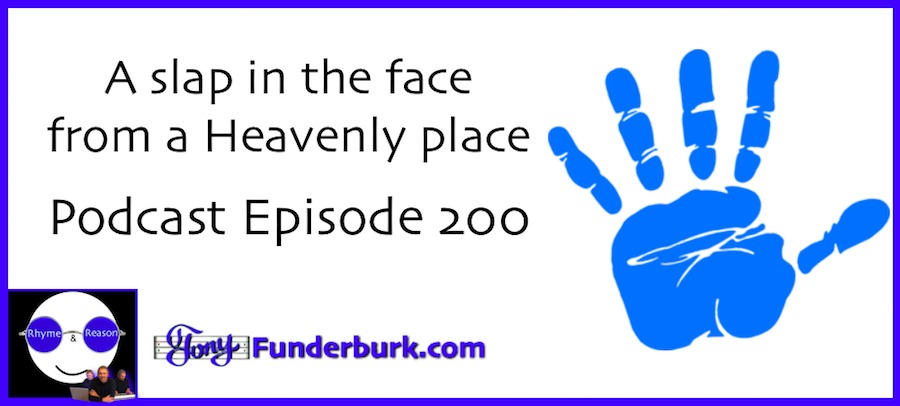 When God slaps you, don't be surprised if you end up with a few broken teeth. After all, He's God. He created the heavens, the earth, all the sun, moon, and stars in the universe just by speaking them into existence. It wouldn't take much action from Him to smack you down.
But here's how to avoid that kind of slap in the face:
Trust God. Believe in Jesus, and accept the gift of Grace He bought and paid for with His life. Your eternal salvation is that easy to get. Because God loves you He's made a way to save you from the troubles of this world. Not all of them all of the time in the here and now. But you won't have to endure them forever. The same can't be said for enemies of God. As He helps his troubled people, He also punishes His enemies.
Don't be one of them. And don't wait another day to change the course of your eternity. Ask God to forgive you, correct you, and help you think His thoughts after Him…instead of your own.
Here are the lyrics to the song I'm sharing on the podcast version of this blog post. I want you to know I'm pulling for you. And I know you want the best life has to offer. So, how about eternal life?
---
If you believe there's a rhyme and reason to life, and you want the world to know why, then share my rhymes and reasons with your friends and family, and let's get The Word out. Like this…
Join the ultra secret Rhyme and Reason Ring
Buy and read my ebooks on Amazon.com or Smashwords
Subscribe to my Podcast on iTunes – OR Google Play OR Player.fm  OR Stitcher
Connect with me on LinkedIn
Circle me on Google +
Follow me on Twitter
Watch my videos on YouTube
Find me on Facebook
Or choose any of the social media links below
Stay tuned,