Singer Songwriter Says See Ya Later
Back in the late 80's I was "on the road" as a singer songwriter full time.
Well, let me backtrack just a bit. I'm also a native son of Colorado…born in Fitzsimmons Army Hospital in the Denver area. And after moving around…a lot…in my formative years I made it back to Colorado in my early twenties. It was on a vacation from my home, at the time, of Houston, Texas.
Once I saw the spectacular Rocky Mountains as a young man I was hooked. Like Jimmy Buffett said in one of his songs, "the weather suited my clothes". Well, it suited my skin. I love the dry climate, and if you've ever been to Houston, Texas…you know it ain't dry.  🙂
OK…now back to my story…while I was still based in Houston I began to play music full time on the road. And no matter where I went I always longed to go to and live in Colorado. While I was in a two week engagement in Erie, Pennsylvania I wrote a song about getting back "home" and leaving the other places behind. I called it "See Ya Later".  Here are the lyrics, and click here to hear the song for free. It's one of 40 songs you can listen to for free. Go ahead. I'll wait.  🙂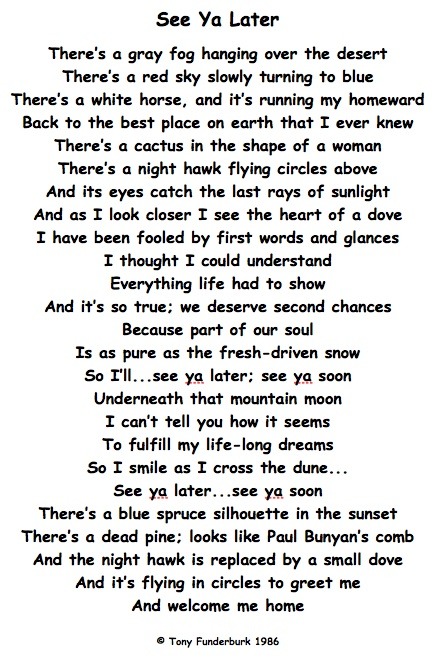 Stay tuned,



P.S.  Connect with me on  Google +
Follow my tweets on Twitter
Like my singer songwriter fan page on Facebook