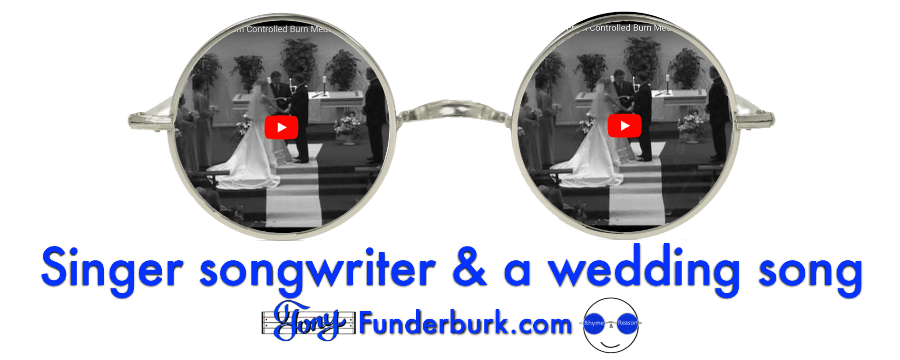 A Wedding Song

Here's a wedding song I wrote to help promote a video service: Controlled Burn Media. The name of the tune is called "Here We Are", and it's designed for weddings.
If you need or want a wedding song you can call your own, a wedding song no other couple will have, contact me. I've been writing for and singing for weddings for a long, long time. And I wrote my own wedding song, and I've been married almost 30 years. So…my words and music works. Guaranteed.
A wedding song is like a musical vow.
When you decide to take the plunge, you should commit to it with everything you've got. Most people go all out on gowns, tuxedos, flowers, and video. But one place to truly stand out is your own wedding song. Put your special story to music, and give it the special spark most other couples won't have.
Lots of people fall in love and agree to remember their "special song". But it's almost always the same song thousands of other couples claim as their own special song. Where's the coolness in that?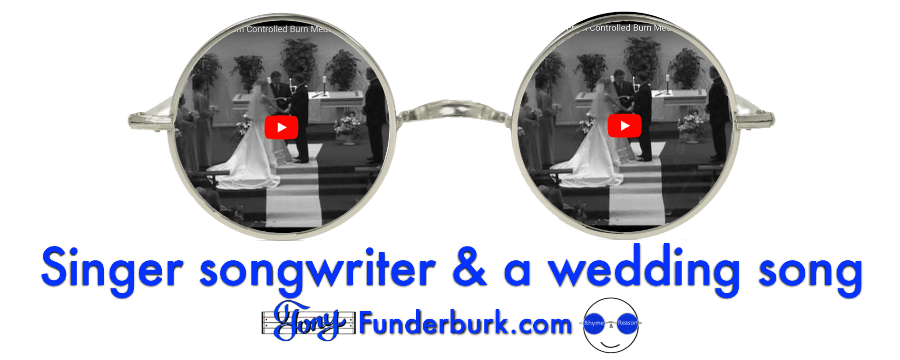 If you're in the planning stages of getting married, take things to the next level with your own one-of-a-kind song. Yes, a wedding song, personalized for your unique story, will add a considerable amount to the cost of your special day. But it'll last a lifetime. And that's more than you can say for the gowns, tuxedos, and flowers.
Yes, it's self-serving of me to talk about custom wedding songs. But since music is what I do…and I still haven't kicked my habit of eating every day…I gotta serve self and sell stuff.
Stay tuned,

When you tune in to my Rhyme and Reason Podcast, you'll get rhymes, reasons, and songs delivered to your inbox for free. AND click here to get free songs and a book right away.

Podcast: Play in new window | Download
Tune In On iTunes Apple Podcasts | Google Podcasts | Spotify | Android | Pandora | iHeartRadio | Stitcher | Email | TuneIn | Deezer | RSS | More