Only One Gospel Will…Make You Ask How Long Till
Below are the lyrics to the song in this episode of the Rhyme and Reason Podcast. Tune in and discover why it's important to know there's only one real Truth for the whole world. And see why if that's not true, I'm such a big fool.

Podcast: Play in new window | Download
Tune In On iTunes Apple Podcasts | Android | Email | Google Podcasts | Stitcher | TuneIn | Spotify | RSS | Subscribe on iTunes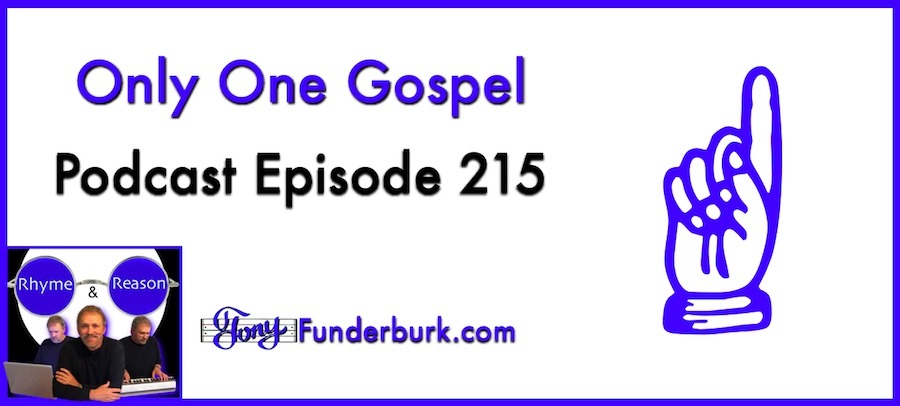 How Long Till?
How long till we see the vengeance?
How long till You make things right?
Lord, how long till the trumpet blows
And calls us into flight?
How long till we see the Savior?
How long till the end of night?
How long till Your trumpet blows
And takes us out of sight?
We need the Truth! The world doesn't care.
They can't see design; though it's everywhere.
No absolutes, and they're absolutely sure.
They worship time and bow down to chance.
They give themselves up to circumstance.
I have to say I don't comprehend the allure.
 (repeat chorus)
Our bodies ache; You can hear the groans.
We twist Your words into sticks and stones
And wield them around like giants in a trance.
This posturing while the world looks on
Just makes them ask where our minds have gone,
And I don't blame them; it's such a silly dance.
(repeat chorus…inst…repeat chorus to end)
© 1999 Tony Funderburk
Subscribe to
Rhyme and Reason with Tony Funderburk
Or subscribe with your favorite app by using the address below
Jump on the one-of-a-kind Rhyme and Reason Bandwagon today and get my words, music, and voice delivered to your inbox. Make it easy on yourself.
Stay tuned,