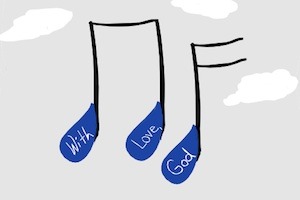 We're really having an unusual stretch of rainy weather here in Colorado. Typically we don't have so much rainfall in so many consecutive days. We're sort of spoiled on 300 or more days of sunshine a year. So, the poet in me was looking at our little front yard flower garden, and I saw lots of raindrops perched on petals and leaves. As I was waiting for water to boil I started to daydream about reading the raindrops as little notes from heaven.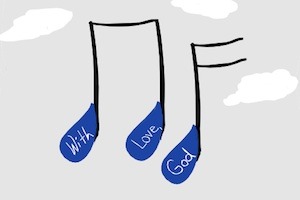 Once my green tea was brewed I immediately sat down at my trusty MacBook and began to type out my thoughts in verse. And this was one of those times writers love…the words mostly poured out of me. I didn't strain to write a line or find a word. I guess my muse must have had an Americano for breakfast.
So, I hope you're enjoying the weather, whatever it is, wherever you are. Remember…you're only here on this planet for a short while. Love the moments before they're memories…
~ Rhyme Time for Today ~
Little notes fall on the flowers in the garden
From a cloud that's floating just above the trees.
I can hear the whole sky play
A little song for me today.
Reading the raindrops I can sing along with ease.
And the tympani is thunder pounding rhythm.
The conductor holds the lightning in his hand.
It's a symphony, a song,
And it plays the whole day long.
Reading the raindrops I'm the singer in the band.
All the instruments are needed for the music.
It's so beautiful that frozen hearts are thawed.
When I give up self-control,
It flows deep into my soul.
Reading the raindrops, little love notes, straight from God.
Stay tuned,

P.S.  I really appreciate your support here on my website. Here are some other awesome ways you can show your support, keep my words and music flowing, and keep me off the streets.
Get my ebooks for kids on Amazon.com
Subscribe to my Podcast
Circle me on Google +
Like my fan page on Facebook
Follow me on Twitter
Watch my videos on YouTube
Subscribe to this blog