Rainbow City Residents Should Never Worry
This is not a weather report. This is a short explanation of why Rainbow City residents should never worry. They worry all the time, and they don't seem to realize that worry is a form of sin. Does this matter? Yes. Allow me to show you why, and I'll even share one of my old songs with you about it.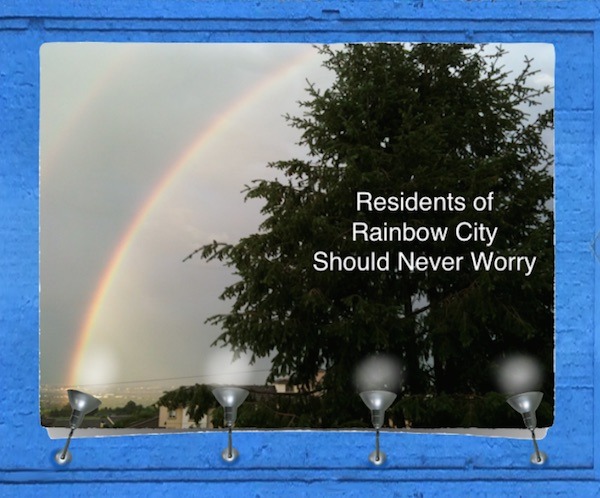 It's interesting to me how Jesus (who created us all by the way) told us not to worry about what to eat, what to drink, or what to wear. He even said we shouldn't worry about tomorrow. There's a clear indicator that worrying about things means you're not trusting God. Tell me that isn't you…OK?
Of course, not worrying about things doesn't make them magically disappear. But worrying about them doesn't either. And worry is a sign you're leaning on yourself and not trusting in the love of God. This is especially troubling if you're a Christian. Because if you're a Christian, you're already a resident of "Rainbow City". Here's the song about it…
Rainbow City
Why does everybody worry?
Spend so much time fretting and fussing
And you're bound to end up grey.
Why is everybody faithless?
Detour yourself into the night
And you can't enjoy the day.
Where is everybody going?
We're escalating and elevating
And still no ground is gained.
Where can people find an answer?
They put away for a rainy day,
But it already rained.
Don't you see? We're living in Rainbow City.
Don't you know? We own that pot of gold.
Can't you tell? We're livin' in Rainbow City.
Can't you feel, and come in from the cold?
How can anybody profit?
Give of your hand and not your heart
And no one's world can change.
When will anybody listen?
When all the deer and the antelope
Lose their home out on the range?
Why does everybody forget?
Their little brick and glass domain
Can't shield them from the fire.
I wish that we could all be happy.
I know we should and maybe we could
Put our faith a whole lot higher
repeat chorus
I know it's cold out there…I've been to that empty place,
But you can be warm inside…the light can shine on your face.
inst…repeat chorus
© Copyright 1990 Tony Funderburk
Stay tuned…