Paul described himself (and Christians), in the book of 2 Corinthians, with a group of contrasting phrases. In some Bibles there are subheads for different sections, and in mine this section is titled "Marks of the Ministry". Paul used these phrases to more fully illustrate a fruitful ministry. One of them was "as having nothing, yet possessing all things".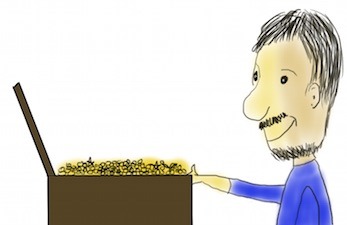 Do you ever feel like you have nothing…and yet at the same time sense that you're possessing all things that are truly important. I hope so. It's like this…
Maybe you having nothing, or not very much, in the way of "things". Maybe you don't have a fancy, new car. Or a closet full of new clothes. Or a membership at that swanky golf and country club. But maybe you've accepted Jesus as your personal Savior. That trumps all other shortcomings because that one decision gave you everything you need for eternal life. And in case you didn't know it…eternal life doesn't have to be renewed every year like a country club membership.
Take a close look at these other contrasting phrases Paul writes and you might notice a pattern…
as unknown, and yet well known; (God knows you always)
as dying, and behold we live; (God is your source of Life)
as chastened, and yet not killed; (a loving God corrects you when needed)
as sorrowful, yet always rejoicing; (God gives you joy beyond your pain)
as poor, yet making many rich; (your treasures are in Heaven with God)
What's the pattern?
God will never leave you nor forsake you. People and things and feelings in this world will…but God won't. When you're giving time to grow in God's Word and share His love, you're possessing all things that really matter.
Stay tuned…