I just read an article that Smashburger was giving away free burgers today to anyone whose last name is Burger…or even a variation of that…in honor of National Hamburger Day.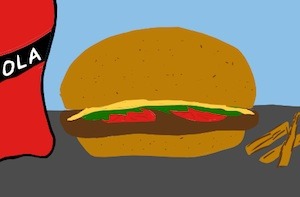 Would you believe I almost qualify? My last name is Funderburk. That's an Americanized version of the German name Von der Berg. See what I mean? Burger is a variation of Berger which translates from German as a mountaineer. And my last name Von der Berg means "from the mountain". And I live on Green Mountain.
Could it get much closer and not be there? I don't think so.
But I didn't go to Smashburger today, so none of this matters. The Funderburks did go to a Colorado burger place: Good Times. And we celebrated National Hamburger Day with a mushroom swiss burger, wild fries, and a Pepsi. Yum…all American meal.
My rhyme time today will honor the burger, and I won't say "two all beef patties", etc. I'll simply write a few lines to celebrate…
National Hamburger Day
If you find some beef and grind it up
And throw it on a grill…
Then take some cheese and bind it up
And add it for a thrill…
Somewhere, somehow you'll hear a song.
Just let the music play
And pretty soon you'll sing along…
It's National Hamburger Day!
And here's what I say…hip, hip, hooray!
It's National Hamburger Day!
Stay tuned,


P.S.  Get my ebooks for kids on Amazon.com
Subscribe to my Podcast
Circle me on Google +
Like my fan page on Facebook
Follow me on Twitter
Watch my videos on YouTube