My Story Is A Simple One To Tell
I could make this more complicated, but my story is a simple one to tell.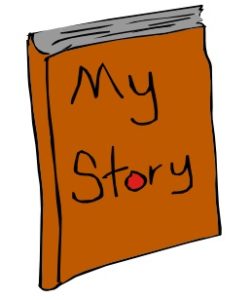 I've always been a dreamer and and an optimist. This world can beat down dreams and optimism, but I don't depend on this world for my inspiration. And I don't depend on this world for esteem. It probably sounds old-fashioned and out-of-touch…but I believe in God. He's the ultimate source for optimism and dreams. Without Him, I wouldn't even be here to write.
So, even though admitting my faith in God may lose me the potential of many millions of readers, I still commit my admission to posterity here on the world wide web. Feel free to tell me "what for" below. And for now, I'll share a brief overview of a certain children's writer I know…
My story is a simple one to tell.
I hope it touches nerves. I hope it rings a bell.
I tried to do the very best I could.
I loved my fellow man…not always like I should.
There were some words and deeds I should have skipped.
Sometimes I stood up proud, and after that I tripped.
As I grew up, I loved to laugh and smile.
When others joined right in, it made it all worthwhile.
So I began to write, compose, and sing.
My music and my words were there through everything.
I found that children loved my silly rhymes.
Their grace reminded me of bygone simpler times.
Then I began to write some picture books
And drew some characters with loony, loopy looks.
I wrote about imaginary dreams
With universal truth and happy ending themes.
The writer's life was mine for many years.
With consonants and vowels I wrote of smiles and tears.
I think I touched some lives for just a bit.
I tried to kindle hope and keep it brightly lit,
But then I passed away with no farewell…
My story is a simple one to tell.
Stay tuned,

P.S.  I really appreciate your support here on my website. Here are some other awesome ways you can show your support, keep my words and music flowing, and keep me off the streets.
Get my ebooks for kids on Amazon.com
Subscribe to my Podcast
Circle me on Google +
Like my fan page on Facebook
Follow me on Twitter
Watch my videos on YouTube
Subscribe to this blog