Where is your mind? Where is your spirit? And where is your soul? These intangible parts of you define you infinitely better than your body ever could. I've never felt my mind, but I know without a doubt I think and hold thoughts. I've never felt my spirit, but I feel the life of it in me. And I've never felt my soul…but my soul knows very well there's a living, loving God who made me.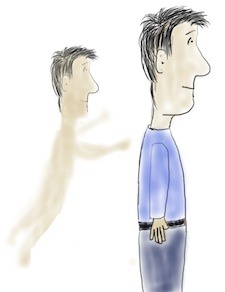 If I choose to tune out the still small voice inside my soul, I can deny the existence of a Creator God. I can turn my back on what my soul knows very well. I can resist the prompting in my spirit to love. Without acknowledgment of the God who spoke words and created the universe and everything in it, I can believe the thoughts in my mind are simply a collection of experiences and nothing more.
But I don't (and I won't) choose to silence the still small voice. I don't want God to disconnect from me. Even when I'm wrong, and His Word echoes through my selfish mind, I want Him there…correcting me in love.
If you own a computer (and I'm guessing you do if you're reading this), I'll bet at some point you had to do a refresh or update or upgrade to the software. Right? Well, as important as that is, it pales in comparison to the refreshing you need if you've tried to live your life on your own power.
This life is tough. There are trials, tribulations, and temptations almost daily. Even as a Christian (maybe even more as a Christian) you will have to deal with these things. You can't simply close your eyes, put your hands over your ears, and blah-blah-blah them away. The noise is too deafening. You need…I need…we all need a Way to meet these challenges head-on with confidence.
That's why you'll hear the message of Jesus called "the Gospel" or "the Good News". He said, "These things I have spoken to you, that in Me you may have peace. In the world you will have tribulation; but be of good cheer, I have overcome the world." In fact, if you do a search through the Bible for "fear", you'll see how over and over God tells you not to fear.
But we do, don't we?
It's OK…you're human. You can be afraid and still "fear not". Here's what you should remember…God made you. He knows how you function best. He formed your inward parts. He covered you in your mother's womb. From the very moment you were conceived your living, loving God knew you. I don't know about you, but I know that my soul knows very well how unimaginably wonderful that is. The rest of me will catch up when I see Him face to face.
Here's a song to encourage you…

Podcast: Play in new window | Download
Tune In On iTunes Apple Podcasts | Google Podcasts | Spotify | Android | Pandora | iHeartRadio | Stitcher | Email | TuneIn | Deezer | RSS | More
Stay tuned…