Music Producer in Colorado Springs
and virtually everywhere else
Nothing sticks in your head better than songs. And nothing features your brand better in Google search engine results than video. So,  iPhone videos and brand songs are a big part of my music producer services in Colorado Springs. And here's a key difference between me and "ad agencies." I'm the guy who's with you from start to finish. Because I wanna make sure you can be seen AND heard.
First…here are a few things that aren't your unforgettable advantage. Typical SEO (search engine optimization), expensive logos, business cards on linen stock, internet marketing "gurus". Those things are OK. But they don't help you stand out and be remarkable. And when it comes to getting in (and staying in) the heads of your audience, you can't beat a personalized music producer! So, that's where I come in. Believe me, I know how if feels to be invisible…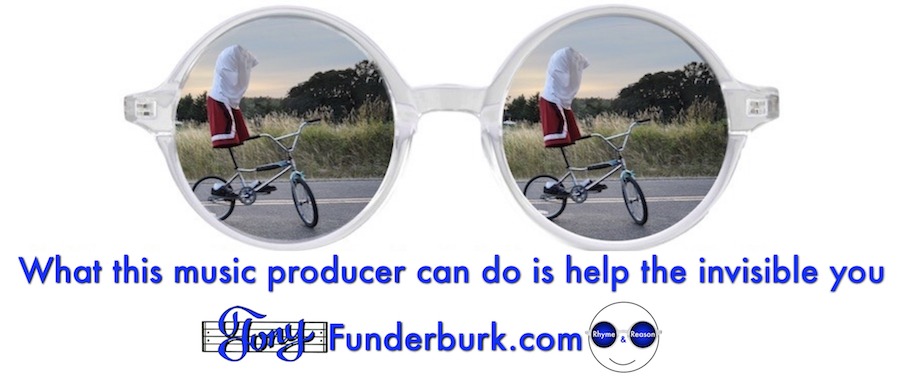 Yes, I'm a music producer in Colorado Springs.
But I've been around. What? You've never heard of me?! (say it ain't so) Well, I've written words and music and used my voice to make a living for most of my life. Tens of thousands of families, businesses, and entrepreneurs have heard me. And they've bought, supported, and enjoyed a variety my projects. From songs to jingles, commercials, and voice production daily on radio, and on-hold systems. And did I mention websites. Also, I can't leave out the Rhyme and Reason Podcast.
You can still hire me to put all that words, music, and voice experience to work for you. But get started right now! Because I'm not sure how much longer I'm gonna offer these services for hire. So, Expand your reach. Be seen AND heard. Ads, books, commercials, podcasts, videos, and website content.
Samples of ad copy and personalized production audio/video
Words & Music for Pickering's Auto Repair in Lakewood, Colorado
(tell Randy that Tony, his jingle guy, sent you)
__________________________________________________
Commercial & On-hold Clips (wrote ad copy – recorded and produced audio)
---
Theme song for the 5th Annual CES Seminar
for online and Amazon business owners
---
Script, all voice work, and video production for financial advisors
__________________________________________________
And some more personalized audio and voiceover Samples…
Music Donut example
---
Website welcome example
---
Website Instruction Voiceover 
---
Multi character voice public service commercial
---
Custom Music & Vocals for Children's Book Promo 
---
Instruction Narration 
---
Cartoon Voices & Voiceovers 
---
And my music producer services include:
Ad copy
Brand focused blog posts
Books for brand boosting
Intro/Outro Music
Podcast Launch help
Slogans

&

Taglines
Vocals/Voiceovers (i.e. podcast intros and outs, videos, web narration, commercials, radio, etc.)
iPhone Video Production
Web Copy
WordPress Website Starter

Hey, you might not know it. But I'm a podcasting host. And the podcast is zooming up on 700 episodes. But, to most of the listening … Read the rest…

Sense of smell helps me remember so well
Read the rest...
Stay tuned, Get my Rhyme & Reason Podcast delivered (free) right to your player. My books are also on Amazon.com or Apple Books Grab yourself a cool tee Or how … Read the rest…
I'm a personalized music producer. And I've worked, virtually, with clients all across America and the globe.
Stay tuned,