"Kiddin' Around"
just one of my collections of fun music for kids.
This CD of music for kids starts out with "Don't". If you've ever been a kid…or ever listened to kids playing together, you've probably heard that word a lot. Well, I put an ironic spin on the word. I wrote a song with a list of things no kid should do. And the funny part is…it's a list of things no kid could possibly do. (psst…this song is also one of my books for kids)
Order the "Kiddin' Around" CD For Only $15 Here:
The very next song is "Stop Buggin' Me"
And it's another phrase I'm sure we've all heard some kid say…or maybe you've said it yourself.
The third song of this "Kiddin' Around" collection is called "Monkey Doodles". It's one of two doodles songs. Yeah, kids like to doodle, so…
The fourth song, "Be Nice", is also a phrase used by moms everywhere. It's funny to watch kids. They can be the cutest, cuddliest, little bundles of love one minute…then you put them in a room together…and look out.
"Green Monkey", the fifth song in this collection of silly, fun music for kids, is all about a klutzy green monkey who enjoys everything green. It's only natural…after all…greens are good for you, right?
The sixth song is called "Keepin' It Real". Being a little kid in the care of our parents is the closest we ever come to being the center of the universe. So, I mention that idea in this song. Of course, human frailties are always there "keepin' it real".
For those of you who enjoy the seaside escapes "Island day" is the seventh song. It has a toucan, dolphin, swordfish, parrot, blue whale, and even an electric eel…all the creatures and none of the danger.
OK…the eighth song is "Apple Doodles". Yep…more doodles. For some silly reason kids have fun making messes. And this fun song is all about the messes…which you won't have to clean up.
The ninth song is called "The Belly Song".</h4
My personalized music for kids and this "Kiddin' Around" CD used to be found in a store in the upscale Cherry Creek shopping district near downtown Denver, Colorado. The store is no longer there. But they specialized in maternity wear for expectant mothers. I wrote this song for them, and one of the owners said it brought tears of joy to her eyes. It's not a sad song. She just thought it captured their idea very nicely. That was pretty cool…
And the tenth song is called "Timbuk Toys". This is another retail toy store where I used to sell this fun and personalized music for kids. And I liked the sound of the store name…how it sort of clicked off the tip of the tongue. Be sure and check out my background native singers.
So…there you have a quick overview of the music for kids on "Kiddin' Around". Order today.
Order a CD of my fun personalized music for kids today.
They'll dance with delight!
Order CD's of personalized music for kids here. If the name you want is on the current names list, (click the drop down button) It's only $12.00. This can be a different spelling of one of the names in the list…just not a completely new name. You can order unique or uncommon names not found on the list in the "New Kid In Town" form a little further below.
————–Click This Dropdown to See The Current Names List
Buy the CD of personalized music for kids from the current names list here. $12.00:
Get a "New Kid In Town" CD here. $24:
"LullaBye Bye" Is a Collection of
Original Jazzy Lullaby Songs
Order The Lullabye Bye CD for only $15
10 lullabies (and a little ditty) you won't find anywhere else at any price. Play these softly near your child's bed and watch the eyelids get heavy. These are some of my personal favorites. They'll soon be yours and your kids' favorites, too.
Nap time music, night time music, or just a little much-needed R&R…this music works.
"Melanie loves your Lullabye Bye CD – (her faves are Blue Celtic Cloud and Milky Way Bouquet). And Caleb loves his CD so much that he started making his own version of birthday songs for his stuffed animal sleep buddies. :)" Cristina Miller (Castle Rock)
____________________________________________
"Bedtime Buckaroos" Is a Collection of
Original Western Lullaby Songs
My personal favorite kind of country music is actually cowboy music. You know…like Roy Rogers and his compadres sang around the campfire.
So, I wrote and produced a collection of lullaby songs called "Bedtime Buckaroos". You can hear samples in the music player above. Tell your kids Tony (and Roy Rogers) say goodnight…it's bedtime, buckaroos.
Order the "Bedtime Buckaroos" CD for only $15 
…just so you know…
I received a number of calls and e-mail questions Friday about your business. Addy was amazed by the CD. She just danced at first, when she heard her name she jumped up and down and said, Mommy…Addison, listen Addison!(she is only 2) My husband loved the CD too! Thanks again, Natalie Tysdal WB2 Morning News anchor (Denver, Colorado)
"My son received the CD for his birthday this year and all of my friends are buying for their friends, etc… He absolutely loves the beats and the music and starts dancing around every time we play it for him. We are very excited to purchase for our friends for their toddler as well…Thank you." Heather (in Colorado)
Hello Tony!! Just a note to say that I got Savanna's CD today!!
You pronounced it PERFECT!!! SA VAH NA !!! :)I love the CD. It is awesome!! You did a great job! I am ready to buy another one…I want to request that you make a Christmas CD and a Lullaby CD for babies……. PLEASE PLEASE PLEASE DO THEM. I will be your first order when you do!! Thanks so much and keep me posted if you come out with another CD. I will be waiting!! Add me to your mailing if you have one Jennifer Vargas (Peabody, Massachusetts)
"I know I sure am thankful that all four of my kids have their very own personalizedmusic for kids -They don't know how they ever lived without it. Your songs are totally awesome, Tony!" Danielle Kekoa (Colorado)
"We popped Rory's CD in the player and he (and his 1 year old brother) had an absolute blast dancing around to the music. And Rory was SHOCKED when he heard his name in the songs. The last few times I've been on Skype with people he's asked if it's the man who made him the CD of songs. Tony's CD has been a BIG hit around here – if you've got little ones in your life, it's a fun, personal gift they'll adore." Michelle Macphearson (Social Marketing Expert)
"I have your CD for my son Jay and we absolutely love it.
Now I am ordering these two for gifts. My sister-in-law… gave us your CD. It is very fun and Jay loves to listen to it. I look forward to hearing these two new ones. My son goes to daycare every day. One day they asked us to bring in his favorite CD. I took "Jay's CD". The daycare providers loved the CD. They all asked where I got. One even wanted to buy one for her pregnant sister. Now that I found your website, I will pass it along to them too." Emily (Kirkwood, MO)
"…just had to let you know that Sue purchased CD's of your personalized music for kids for my twins Zach and Hannah last year for their birthday and they are WONDERFUL. They are 8 now but love listening to them and dancing around…what a gift you have." Jenny (in Washington, DC)
Personalized songs with your child's name (no matter how uncommon the name is)! Tony sings six original songs directly to your child. Our customers tell us they really like the way the songs aren't cutesy or singing "down" to their kids. You'll love the way your child's face lights up everytime he or she hears their name in their very own songs! The CDs are custom printed and any name (no matter the spelling) can be printed directly on the CD (no label to peel off!) What could be better? Monkey Doodles (Evergreen, Colorado…business now closed)
We're so glad you found us with your personalized music for kids.
We put the display right next to the front desk and register because they're so colorful. The songs are so much fun, and the parents enjoy them almost as much as the kids. They're not the typical kids songs you hear everywhere else! Timbuk Toys (Denver, Colorado)
Hi, My son has an unusual name. Vivek. It is a very common name in India, where his dad is from, but we can never find anything here that is custom for him. What is the possibility of having a song done using his name?
I heard one of your songs on Channel 2 news this morning and thought it was great! Thanks, Tara Ravishankar I just wanted to say thank you for the CD's. They are wonderful! The boys are going to love them! What a wonderful idea. Thank you again, Tara Ravishankar
Tony, My name is Renee Strickland (Moe's good friend).
She had you make up
a CD for my grandson and it was a hit with the family. Thank you.
However I need to order 2 more…
————————————————
Here's a picture of an actual letter from a 4th grader who enjoyed some of my children's songs. And notice her favorite singer update… 🙂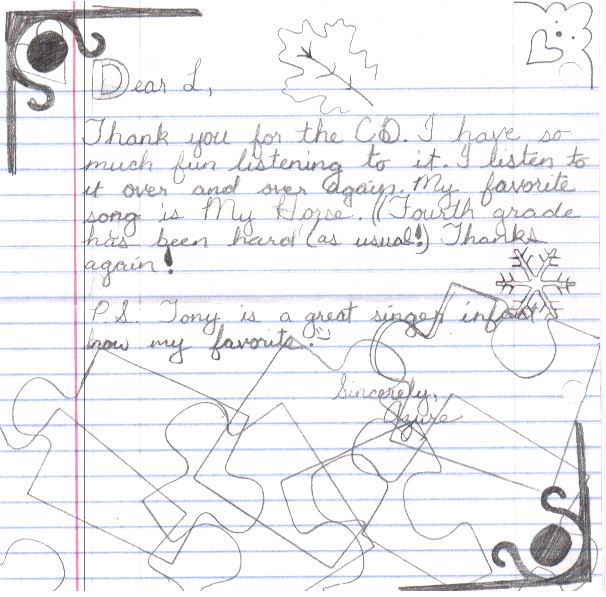 Thanks for your support.
Stay tuned,