When I was a young, aspiring writer and poet, I wrote many verses and stories ripe with open, seemingly vague implications, unspoken intimations, and underlying innuendos. I wrote that way to elicit responses and ideas from readers. It worked very well. Each new person who read the words told me what it meant…and each new person's rendition was always at least a bit different from the next or previous. I just re-read one of my poems in this category called "Mercy Belle", and it brought back some of those memories.
As you read the words, below, see what it says or means to you. I'd love to get an email or comment sharing your thoughts with me. You'll notice Mercy Belle sounds like a person. With a name like that, it's probably a female. Right? Or is this a person at all? I'm just asking.
You'll also notice I mention things like conscience, understanding, death, and laughter. Pain and strain are included, but is it Mercy Belle's pain or strain? Is Mercy Belle a metaphor for some human experience? Or maybe this is a fictional nomenclature? You tell me.
I could tell you exactly what I was thinking about when I wrote it. Or I could share my thoughts on why I used the phrases I did, but that would take all the fun out of the reason I wrote it the way I did. My intention wasn't mystical…it was merely the eccentric lyricist having fun with words. My intention also wasn't to portray myself as a tortured artist whom no other mere mortal could possibly understand. That would be pure silliness.
Mercy Belle is just one of those "things" I wrote when I simple let my brain and my Bic sync up and go where they may. Your results may vary…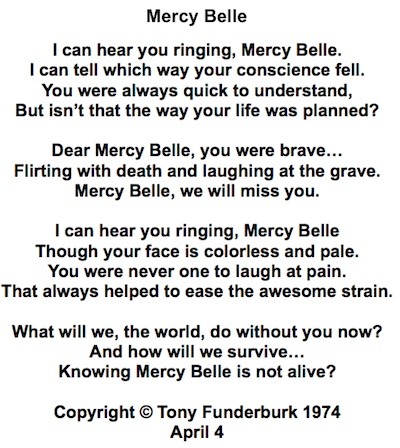 In Faith, Hope, and Love…