Life is calling. It wants you…it needs you wide awake. Be clear-headed, vigilant, and ready. Stop living in a dream.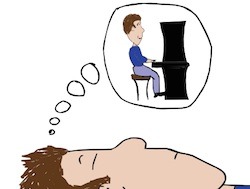 It's OK to dream. If it wasn't, I sure would have wasted a lot of time writing all those lullaby songs for kids. In fact, I suggest you dream big. But don't spend your life living in a dream. Reality is where you make your dreams come true…or at least pursue them. And reality is full of wonder for the wide-eyed wanderer.
I wrote a story poem, way back in 1974, about living in a dream. It's a bit of a conversation, a reminiscence, between two people over drinks. I think you'll see one of the people is trying to cheer the other one up. This person is encouraging…even while suggesting another drink. And the drinks affect the efforts. See if you detect it in…
Living In A Dream
Have another drink.
It will bring back memories
Of all the good times that we had so long ago.
Let your mind be spirited, and let the spirit soar.
If time is just a memory,
Then surely we can know
That the present will be our past in years to come.
So drink up my friend.
Let's toast to harmony of life.
We should recognize the fact
That we live the days and share the days,
And we remember the days we loved best…
Not completely forgetting the rest…
But brushing them aside to be spoken of when sad.
If we only had the foresight to see what we'll do,
But that is only an "if"…a wish.
Have another one good friend.
Intoxicate yourself with the memories
And know the stupor losing your dreams.
Gentle person; you control yourself at this time.
I can only suggest and advise…
Only help you open your eyes.
Find what you will in sorrow beverage,
But it will be gone in the morning…
Replaced with an ache.
Get off the ground and back into the swing.
It's your feet you're made to walk on…
Not your knees.
You must make attempts on your own
Or go through trials all alone.
Direct your feet toward the path
That helps you lose the lust for
Living in a dream.
 © Copyright Tony Funderburk 1974
October 25
In Faith, Hope, and Love…