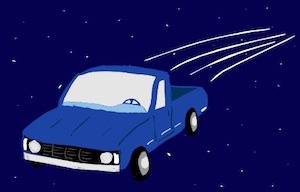 I have a little blue truck parked in my garage.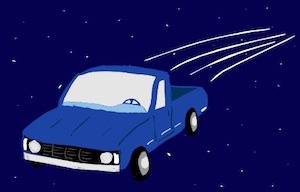 It's older than most of the people who read my Rhyme Time writing for kids or listen to my music. And it has become almost a part of me. It still runs, and once in a while I take it on a short trip to pick up supplies or other errands. It needs a lot of work, but I think that's why I love it…because so do I.
Today I decided to pay tribute to my little blue truck in the form of a story poem. Of course, I had to give it a little more life than a truck truly has…but that's what imaginary stories are all about…a little truth, and a whole lot of fun. So, have fun reading about my '79 Toyota pickup truck…
Tony kept his tools in a little blue truck.
It ran like a top, and it helped him make a buck.
He drove through the country of the brave and free
And saw lots of places most people don't see.
The little blue truck kept rolling for years.
There must have been magic in each of its gears.
It did more work than any ten trucks should.
Maybe there were angels underneath its hood.
Tony kept the truck when he bought other cars…
In spite of its age and in spite of its scars.
He just wouldn't part with his rusty old friend.
They still had to go up around the next bend.
Some people say they've seen those two drive by
With the headlights off in a moonlit sky.
If it's true what they say, this might bring you luck…
Wave and smile at Tony and his little blue truck.
Stay tuned,

P.S.  I really appreciate your support here on my website. Here are some other awesome ways you can show your support, keep my words and music flowing, and keep me off the streets.
Get my ebooks for kids on Amazon.com
Subscribe to my Podcast
Circle me on Google +
Like my fan page on Facebook
Follow me on Twitter
Watch my videos on YouTube
Subscribe to this blog