If You Were Struck By Lightning Love…
Would It Be Good Or Bad?
Well, in the case of my song it's not such a good thing. If you've been following my blog lately, you've noticed I've been telling the story behind the lyrics to some of the songs on my free music player. Don't go there and listen right now because I'm about to share the story behind the first song: "Lightning Love".
Sometimes when I start to write a song I only have a general idea of what I want to write about.  So, I get my mind into the mood by thinking of the big picture. Once I can see the big picture in my mind's eye, I start to look around to see what gets my attention first. For "Lightning Love" I decided to start with a blue sky. And it occurred to me that it would be my "backdrop".
I figured I'd have the main character driving down the road. At first I wasn't even sure why. But then I thought of how he might be driving away from something…not toward something. Then, an idea of "love 'em and leave 'em" began to percolate in my brain. For some reason it seemed like lightning love would be a good way to describe a guy who takes advantage and doesn't commit to a relationship. And I also wanted to show how it could seem like fun on the surface…but that it would have potentially negative consequences…even to the point of being run out of town.
In the second half of the song I thought about all the things I'd see on my drives across the U.S. And common threads were beer signs and neon signs. So, I used that. And one of my favorite lines can be read or vocally interpreted two ways: "the headaches and the heartburns". I'll leave it to you to see if you can see what I mean.
Then, for some odd reason that can only be explained as serendipitous kismet, French words that rhymed poured into my my creative flow. I went with it, and it worked out nicely. I finished up the song by repeating the first verse…sort of like it had been a flashback…you know…like the guy had been thinking over what got him to this point.
OK…there you have the story behind the story. I hope you enjoyed it, and I hope you'll go give a listen to it on my free music player. There are over 40 songs you can listen to for free…and feel free to share them with anyone you like.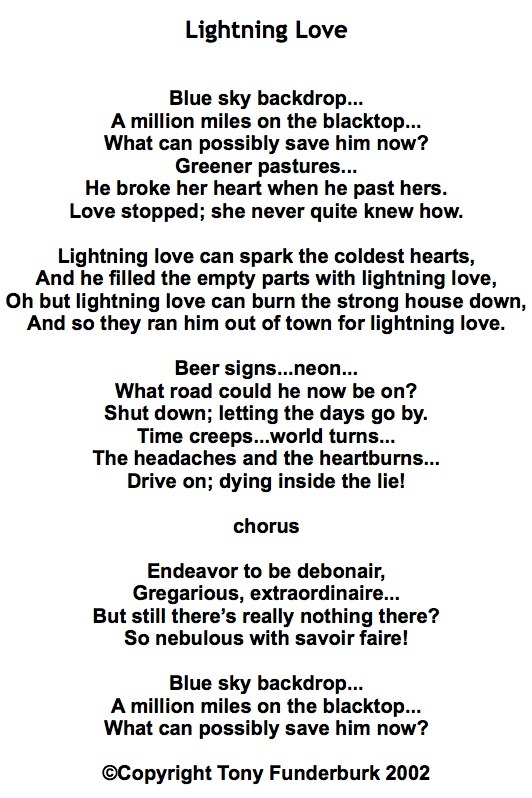 Stay tuned,


P.S.  Connect with me on Google +
Follow my tweets on Twitter
Like my fan page on Facebook