Don't stay in your head too long…
When I graduated high school, I had visions of being a serious writer. And by "serious", I mean not kidding around. You know…serious. No jokes. Anyone who knows me now (and didn't know me then) would probably never guess that about me. Now, I love to kid around, tell jokes, and look at the sunny side of life. Because since those "serious" days I've discovered it's not a good idea to stay in your head too long. Let me explain…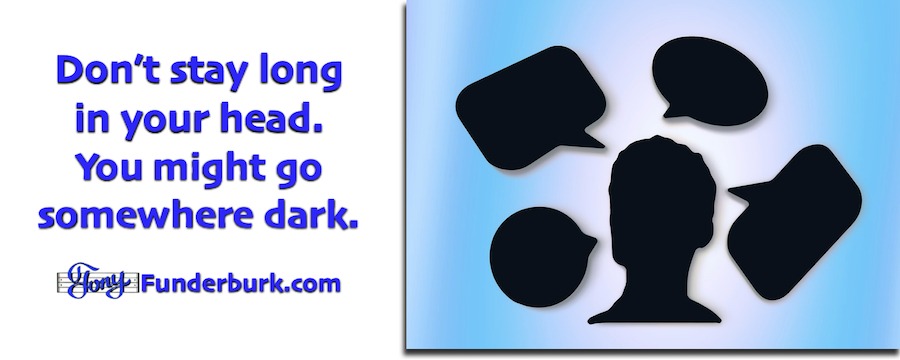 Your own mind can turn on you without a strong moral compass. I write from experience. Mine has betrayed me more times than I care to mention. While that makes me human, it also embarrasses me. I don't like to admit how I've done others wrong or how I've even done myself wrong. I'd rather only show you my good side. The side of me that loves to laugh, help others, and find the light to shine into the dark. But…
That wouldn't show you why you shouldn't stay in your head too long.
And if sharing some of my mistakes helps you to avoid making some of the same ones, then that's an obligation I have to my fellow man. (that's not leaving out women, by the way)
So, I'm gonna use some poetry to illustrate how diving deep in your head can sometimes go a darker way. Keep in mind, I wrote this when I was about 19 or 20. I was just finding my way around writing poems and lyrics. As I read this poem just a little while ago, I realized how I don't much like it. It doesn't dance to my rhythm. Or skip to my beat. It's just too darn dark. And that's because I was going against my own self. I was being "serious". It was important to me to write deep…to pontificate. I recommend you avoid my mistake. Write in the light. Cheer yourself up and those around you, too. Where's the beauty in darkness? What do you think?
The Mistress of My Fate
I live in my mind's own cluttered mess…
An ember in a fire that's almost out…
Waiting and wondering if life will clear up…
And swimming the wide sea of doubt.
I hate this rat-race of people's mouths
Telling me the very thoughts I should think.
They're placing my feet on every step,
And my patience is now on the blink.
Where are you now when I need you?
Have you let their ideas stampede you?
I need your hand, your kind words, your shoulder.
I need you now as I will when we're older.
Don't carry my heart on a plate.
'Cause you're the mistress of my fate.
The dreams, that I dream, recur many times.
That's a world that can be erased,
But the world that I wake up to startles me…
So many woes to be faced.
(Yes, I think this room will do.
Haven't got the rent for you.
But wait till next week…
Then my billfold will speak.)
Where are you Sunday? I need you.
Did the rest of the weekdays stampede you?
I need a rest day; you seem like the best day,
But you just last a day, then you're gone…
Just like a newly-mown lawn.
Tell me that you're here,
Or I'll dive into a tear.
I'll swim away
Maybe to Monday.
Yes, that will be great.
Monday will be the mistress of my fate.
© 1973-2017 Tony Funderburk
Stay tuned,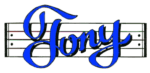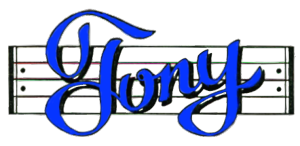 P.S.  Share the rhymes and reasons with your friends and family. And let's stay connected. Like this…
Join my Rhyme and Reason Club
Discover my ebooks on Amazon.com or Smashwords
Subscribe to my Podcast on iTunes – OR Google Play
Connect with me on LinkedIn
Circle me on Google +
Follow me on Twitter
Watch my videos on YouTube
Find me on Facebook
Or use the social media links below