If it Ain't Too Much Trouble
Pardon the slang grammar, but I wrote a song back in 1987 called "If It Ain't Too Much Trouble". And I just found the typed lyrics I was using for a while when I performed it on stage. I never played it very much, and it wasn't a particularly popular song of mine…at least no one ever said they loved it or had to have it. Of course, there were only about 50 or 60 people who ever heard it. And I'd say that mostly likely only about 6 of them were people I knew or know.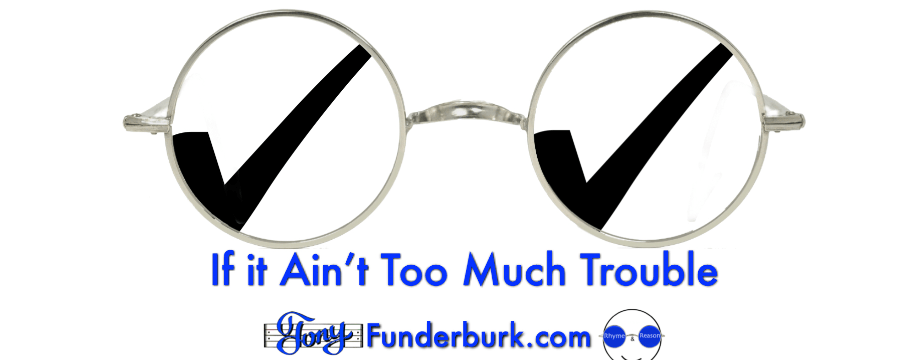 Anyway…I remember a stretch of years in my life back in the 80's when I was a single traveling musician. I guess you could say I was decent looking and had my share of attention from the female types. But I never seemed to connect with one for very long. I'm sure it had something to do with the fact that I was a full-time traveling musician.
Well, one of my road trips took me to Albuquerque, New Mexico.
I played music 5 or 6 nights a week, and on my night off between weeks I stayed in my room most of the time working on writing new songs. The weather wasn't cooperating for me to spend time outdoors, so it was a perfect time to get the keyboard, drum machine, and notebook out. (no laptops or iPhones back then)
I'd had this tune in my head and an idea for some lyrics. So, I started jotting down ideas. I've always been one of those writers who edits as he goes, but I like that way. So…line by line I formulated this idea about a fictional girl (made up from a conglomeration of multiple acquaintances) who was aloof and couldn't be bothered to build anything lasting. And I came up with the line "if it ain't too much trouble".
I think I have an old recording of the song somewhere.
Check out the lyrics, below, and leave me a comment or post on Facebook, Twitter, Google, or wherever if you'd like to hear it. And I'll see if I can find it.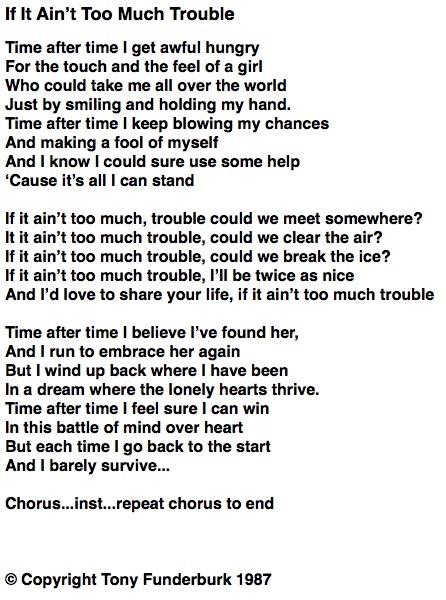 Stay tuned,


P.S.  Get my ebooks for kids on Amazon.com
Subscribe to my Podcast
Circle me on Google +
Like my fan page on Facebook
Follow me on Twitter
Watch my videos on YouTube