If I Only Knew Then What I Know Now
Surely that's happened to you. You learn some awesome information or a valuable lesson, and you say to yourself, "If only I knew then what I know now."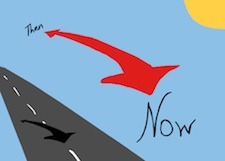 Of course, we say that…thinking we would have or could have avoided all those mistakes if we only knew then what we know now. And, of course, that's not true. We might have avoided a mistake or two, but given our track records, I'm certain we would have made other mistakes…and maybe just as bad or worse.
But that's all based on what our limited human nature knows and understands. Fortunately, there's a deeper and higher level of understanding things we can attain through the Spirit of God. Your eyes can't see these things. Your ears can't hear these things. And even your heart can't comprehend these things.
These things I'm talking about are "the things which God has prepared for those who love Him". No one can know these things simply by gathering or building mountains of intellect. No one can buy or borrow these things.
Yet these things are freely given by the Spirit of God to anyone who chooses to love Him. Through His Spirit we can receive the things of God, and they make sense. But to the man or woman steeped in the so-called "spirituality" of this world, it all sounds silly, judgmental, and sometimes even hateful.
But before you judge me too harshly, consider this…when I share the message that the only way to eternal life is through trust and faith in Jesus, it's because I love my fellow human beings enough to tell them. And I know it won't win me any popularity contest. But if it's true (and it is), I'm not loving you to keep that from you.
Once I became a Christian I tapped into the mind of Christ. With access to that wisdom, only selfishness could keep my lips sealed. And so I write and sing about the wonderful paradise to come. I'd love for you to be there, too. All you need to do is acknowledge these things: There is a God. You're not Him. And He loves you so much He made the ultimate sacrifice in order for you to live with forever…if you want to. I sure hope you don't end up somewhere thinking "If I only knew then what I know now".
In Faith, Hope, and Love…

P.S.  I really appreciate your support here on my website. Here are some other awesome ways you can keep my words and music flowing. Get my ebooks for kids on Amazon.com or Smashwords
Subscribe to my Podcast
Circle me on Google +
Like my fan page on Facebook
Follow me on Twitter
Watch my videos on YouTube
Subscribe to this blog