You'll never be bored in the house of the Lord
You and I are mortal. And physical. So, we understand physical and material structure. We can wrap our minds around the image of a house. That's why, in the Bible, King David wrote about the house of the Lord when he said he was looking for his heart's desire. David knew talking about where God lives would be too difficult to describe in spiritual terms. So, he said he wanted to dwell in the house of the Lord all the days of his life. He understood how perfect and beautiful that would be.

I've heard people say they couldn't stand living in a perfect place forever because it would be boring. How ridiculous. By definition, perfect means there'd be absolutely nothing wrong with it. You won't be bored in the house of the Lord because you'll always have challenging, interesting, and wonderful things to do, learn, and enjoy.
Of course, the people who say they'd be bored living in Heaven are just using that as another reason to rebel against God. They find any excuse they can why He's not the answer to all their pain and misery. Why dwell in the house of the Lord when you can build your own mansion right here and now. Right? Just one problem with that. Your mansion on earth could still be here when you die. And what then?
Live in a perfect house, rent-free, forever.
Sounds like a real estate ad, doesn't it? But I'm talking about a REAL ESTATE. No mortgage payments. Or rent payments. No payments, period. Because it's paid up and paid off…by the builder. How cool is that?! And just imagine…living in a place that never needs new paint. The plumbing doesn't leak. No utility bills. You'll never have to worry about those things again. Ever!
What would that be worth to you? Would you be willing to give up being your own god and savior? Or do you believe you can make your own place that lasts forever? Well, I don't know about you, but I'm willing to admit I'm not God. I don't want that responsibility. And I certainly have no idea how to make life last forever. That's why I trust in the mountains of evidence pointing to the One, True, Living, Loving Creator of Heaven and Earth. When it comes to picking the perfect place to live, I choose the House of the Lord. Will you be coming for a visit? Or will you be coming to live?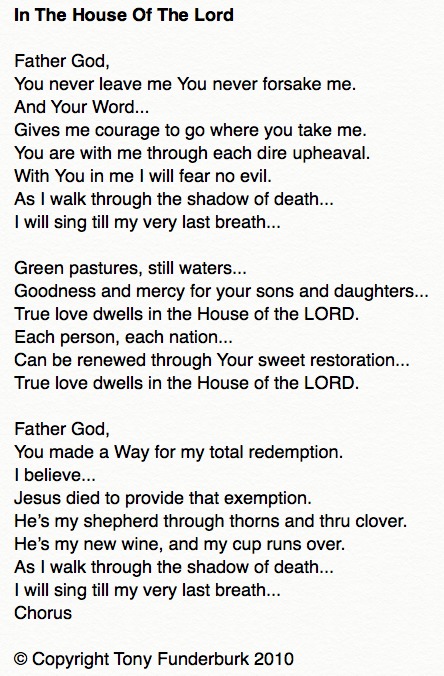 (Be sure to listen to the Rhyme and Reason Podcast to hear the song)
---
Share my rhymes and reasons with your friends and family, and let's get The Word out. Like this…
Join the one-of-a-kind Rhyme and Reason Band
Buy and read my ebooks on Amazon.com or Smashwords
Subscribe to my Podcast on iTunes – OR Google Play OR Player.fm  OR Stitcher
Connect with me on LinkedIn
Circle me on Google +
Follow me on Twitter
Watch my videos on YouTube
Find me on Facebook
Or choose any of the social media links below
Stay tuned,