Have you ever known someone who was so gifted in an area they never focused on? For example, I had a friend, a long time ago, who was such a gifted artist. He could draw and paint life-like pictures. His attention to detail was incredible. You could practically see every hair on the head of his illustrated portraits. I was so impressed…still am. In fact, I use a tiny piece of his work here on my website everyday. (see if you can guess where) But this artist friend of mine worked at a job he didn't like. It paid well, and it kept him supplied with the trappings of a comfortable lifestyle. However, I could see a heart and hands disconnect.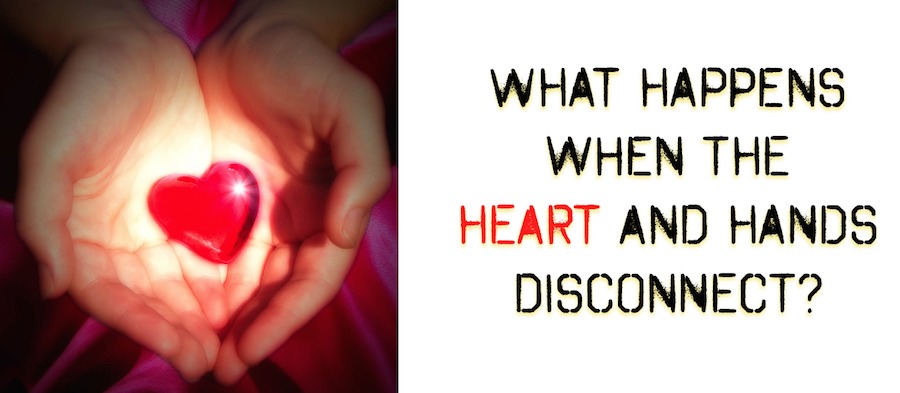 Whether you realize it or not, you have gifts and talents designed into you by your living, loving Creator. God gave you these wonderful abilities so you could use them to tell others about Him. And so you could provide for yourself. There's a place in the Bible where it says "train up a child in the way he should go, and when he is old he will not depart from it". That's awesome advice for parents. Look for those natural gifts and talents in your children, and encourage them to discover how they can best serve others with them. Because what happens when the heart and hands disconnect is a life of longing…a life of wondering…a life that misses the mark.
Here's what I wrote about my friend way back then. If you know someone who's struggling with this problem, maybe this will help you have something useful to say to them. It's important to help. Will you?
Heart And Hands
The artist stares at his desk and then at the wall.
His hands perform tasks he doesn't cherish at all.
He longs for his freedom, but he lives with the pain
That his hands can't hold on to what his heart can attain.
The artist struggles to be what the others perceive,
But this feeling surrounds him, and it just doesn't leave.
He wants to paint pictures to show it's in vain
When his heart can't hold on to what his hands can attain.
If he could just get his heart and hands together,
I think his doubt would have to cease.
If he could just get his heart and hands together,
I know he'd paint a masterpiece.
The artist sits in a room with a beautiful view,
But he does only things he thinks he has to do.
I wish he could see what he denies us all
By keeping his visions locked behind a wall.
© 1988 Tony Funderburk
Stay tuned,