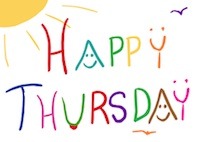 Ta Da! I'd like to bring you some happy Thursday words. I gathered them all together just for you my loyal readers. Well, for newcomers, too if they'd care to partake. Now, let's see…hmm…where did I put those words.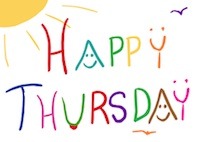 Well, that's peculiar. I just had them a minute ago. In fact, just before I sat down to type out the message I put them all in…uh…in what? What did I put them in?
Did I put the words in a bag
With a tag that looks like a flag?
Did I stick the words in a shoe
Painted blue to make it look new?
Did I hide the words in a drum
Which, to some, could make me look dumb?
Did I let the words out the door
Where they'll soar and come back no more?
Did I leave the words in my head
To be read by no one instead?
Nope, I found the words in my eyes,
So surprise! They're here for you guys.
© Copyright Tony Funderburk 2014
Well, I'm glad it all worked out. I forgot the happy Thursday words weren't supposed to show up here until I wrote them down. And now that I have I'll say so long until Friday. Hopefully it won't be a forgetful Friday. Guess we'll have to wait and see.
Stay tuned and whimsical,