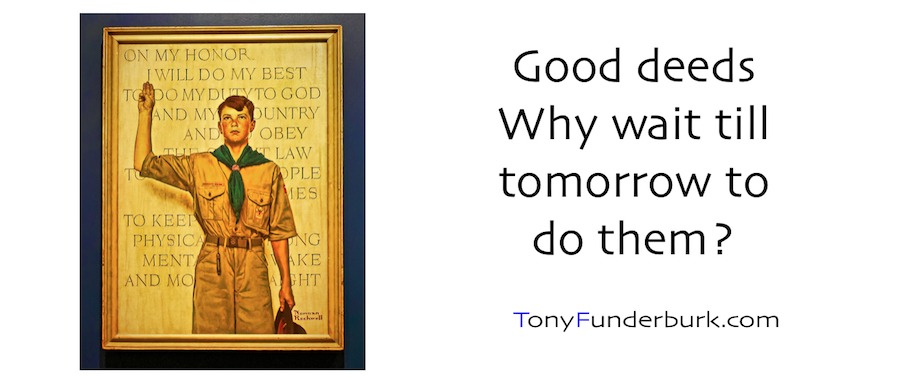 Are you saving your good deeds for tomorrow?
If someone came to you asking for help"let's say they needed a ride because their car broke down"would you tell them to come back tomorrow? Probably not. Right? What if they needed to borrow money, and you have it to lend? Would you tell them to wait until tomorrow? Hmm, that's a little different. Or is it? There's a place in the Bible where it says if you're able to help someone, don't hold back. And don't wait till tomorrow. Do your good deeds today. Tomorrow never actually gets here anyway"does it?
When you're able to help your neighbor, that's a great way to "love your neighbor." And if you're a Christian, loving your neighbor is one of the main things God asks you to do. So, why would you wait till tomorrow? What's gonna be different tomorrow? No, it's important to live in today. Love in today. Act today. Don't believe that nonsense that says "no good deeds go unpunished."
Because this world doesn't want your good deeds.
So, trust God to be faithful. He knows your heart. And He knows where your true treasures are.
If someone asks you for help today, and if you're able to give them that help, give it. It's not a matter of doing good deeds for the sake of deeds. It's a matter of your heart. And it's a great way to have a healthy heart. Is your heart healthy toward others? Here's a rhyme to help you remember"
Give your help to someone who needs.
Have a good heart. It's love that feeds.
What you do now is planting seeds.
It's so much more than just good deeds.
Stay tuned,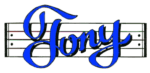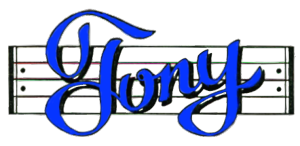 Share this link with everybody you know, so they can jump on the Rhyme and Reason Bandwagon
(My regular emails about the essentials of life, AND some music and other good stuff, for Fa-Ree)