Foolish Things Of The World
I am not glorious. In fact, you might even say I'm one of the "foolish things of the world".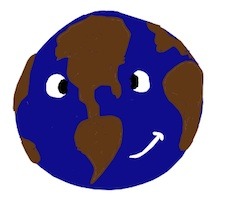 Here's how it lays out. I'm not wise, mighty, or noble…not as the world sees wise, mighty, and noble anyway. In fact, the more I stand up and speak the truth of the Bible, the more foolish I seem to most people in the world. I'm OK with that.
God has chosen the foolish things of this world to put to shame the "wise". You see, it's like this…if you think yourself wise, yet say there is no God, your wisdom is actually foolish. It's self-defeating. In order for anyone to say "there is no God" that person would have to know everything there is to know about everything there is in the universe. And in order to know that much, a person would have to BE God.
Self-defeating arguments abound in a world that does its best to wash away God with so-called intellect and science. The ironic thing is…there wouldn't be any intellect or science without an uncaused First Cause.
Chew on that for a minute. I'll come back to it.
The only true wisdom we humans can attain must have its origin in the One who designed us…the One who "knit me together in my mother's womb". To take the Creator of the universe out of the picture is folly at best…and damning to others at worst.
Look…I believe everyone believes in a god…whether they determine that god to be their own abilities, or a "force" that covers all there is…or merely some "higher power. My suggestion is to take a closer look at THE God of the Bible. When you see the overwhelming evidence of His existence in all of creation…in manuscripts…in archeology…in prophecies…and in science and statistical probabilities…I believe you'll want to "glory in the Lord".
In Faith, Hope, and Love…

P.S.  I really appreciate your support here on my website. Here are some other awesome ways you can keep my words and music flowing. Get my ebooks for kids on Amazon.com or Smashwords
Subscribe to my Podcast
Circle me on Google +
Like my fan page on Facebook
Follow me on Twitter
Watch my videos on YouTube
Subscribe to this blog