Fathers Day 2014 is a beautiful day here in Colorado. I hope it's a great day for all you fathers…no matter where you live. You deserve a pat on the back for standing up and taking care of your kids. I salute you!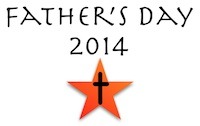 I never experienced the joy of fatherhood myself. Or any of the other emotions that go along with being the first man little kids look up to. But that never stopped me from loving kids and all their innocent amazement and wonder. I guess that's why I've written so many songs and poems and books for kids. They're just plain fun to write for. They get a kick out of the simplest things, and they give their responses so freely.
So…this Fathers Day 2014 got me to thinking about the Number One Father. I wrote a song about Him about 4 years ago, and I'd like to share it with you today. We don't set aside a day for God because every day is…
Our Father's Day
We have eyes and ears, a heart and mind.
If we truly seek, God's not hard to find.
As we leave this broken world behind,
Only His Truth and Love are the ties that bind.
We have hours or days or weeks or years
To be reconciled from our hopeless fears.
Think of this before your last day appears…
Only a loving God wipes away your tears.
He gives life and love and light.
Only He makes all things right.
And we're here, so we should say…
Every day's our Father's Day.
With each day our daily bread…
Every thought that's in our head…
Should illuminate the Way
Every day's our Father's Day.
We can see design upon His land…
Even in an unborn baby's hand,
And when life is not the way we planned,
Only a living God helps us understand.
© Copyright Tony Funderburk 2010
Till next time…