Way back in ancient times…in TV world that is…there was a family oriented sitcom called "Father Knows Best". It starred Robert Young as the father, and his wife was played by Jane Wyatt. This fictional couple had 3 kids, two daughters and one son. The situations (the "sit" part of sitcom) most times were problems a family member would have, and almost all of the time father really did know best.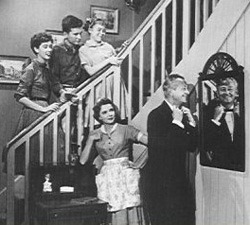 Of course, that's all just too cornball nowadays. No longer does it appear that father knows best in sitcoms or any other place in mainstream entertainment. All too often the father in a modern day sitcom is the bumbling buffoon whose kids or wife or best friend have to come to his rescue.
Well, I'd like to posit how we humans are more like the kids from "Father Knows Best" than some contemporary sitcom. And for the sake of my reasoning I'll present my Heavenly Father, God, as the father of us all. (He is, but I'll save that for another time)
We "kids" seem to always think we have all the answers. We know best. We argue with one another. We take things from one another. We cheat on tests. We steal whatever we think we can get away with. And we make terrible messes.
Then, we think only WE can clean up our messes. Our Father doesn't have a clue what we're going through or have gone through. How could He? He hasn't walked a mile in our moccasins. But we forget…He was here long before we were. Hmm…maybe we should re-think our position. Could He possibly have any experience we could learn from? Or knowledge we don't yet possess? Or mechanisms in place that can provide solutions to our predicaments?
Let's look at an example of what I mean.
In 2010, "kids" made a huge mess in the Gulf of Mexico. You may recall the BP oil spill that leaked almost 5 million barrels of oil into the Gulf. Well, this was sort of like kids playing in dad's pool and spilling a bunch of gunk into it. The kids spring into frantic action to find something to clean it up. Then, they remember…hey, mom has some dish detergent that the commercial said cleans up oil. Quick, grab the bottle and pour the whole thing in the pool.
What the kids didn't realize was that their father had thought ahead. When he bought the pool, he made sure the installers included state-of-the-art self-cleaning microbes that could degrade and even eradicate the gunk. So, the kids, in their frantic efforts to leave dad out of the equation (and to keep him from even knowing about it) actually made the problem worse…or at least made it take longer for the microbes to do their best. (see a similar story here)
This simplistic scenario is to illustrate a point. Our world, our "ecosystem", and even every creature in it is here by design. Our Father designed it. He did a brilliant job of creating a smorgasbord of things to eat…and a huge variety of creatures who will make sure it's eaten. His architectural, mathematical, and scientific brilliance can be seen in the everything from the giant whale down to the single cell. If we could just all learn to trust Him and His failsafe systems with their awe-inspiring redundancies, we could see…
Father Knows Best.
Stay tuned,


P.S.  Get my ebooks for kids on Amazon.com
Subscribe to my Podcast
Circle me on Google +
Like my fan page on Facebook
Follow me on Twitter
Watch my videos on YouTube