Fan mail doesn't get better than this
This illustrated fan mail has everything I could ever need or want from a young fan. Creative illustrations…Calling me "a great singer" and "my favorite"…and even signing her name sincerely. What else could a singer want?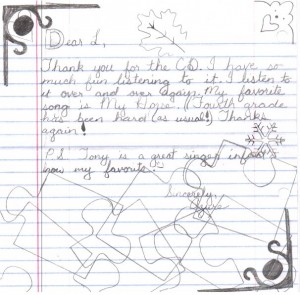 My wife got this letter a few years ago from a young girl, named Azure, who had listened to some songs I wrote for kids. She also loves horses, so her favorite song on the CD was one called "My Horse". It's about a cowboy who loves his horse so much he just knows she's going to Heaven with him. I shared this song a few years ago, but maybe you (or your kids) didn't get a chance to hear it.
My Horse
Heaven holds a place for my horse
Standin' straight and strong and tall.
All the trails we've taken; even when her legs were achin
She never lets me down at all.
God was great when He made my horse…
Perfect since she was a foal.
Ranchin' skills to master; no horse learned 'em faster
There's a bonfire in her soul.
So, Lord don't take my horse too early
We've got lots of work to do.
Chasin' cattle, lots of ropin', and it's silly but I'm hopin'
I can ride her all the way to You.
I'm at home when I'm on my horse.
Across the prairies we will fly.
With her nostrils flarin' and the people starin'
We could race into the sky.
Chorus…instrumental…chorus twice to end
Copyright © 2008 Tony Funderburk
And thanks again for the awesome fan mail, Azure…wherever you are.
Stay tuned,

Stay tuned,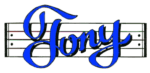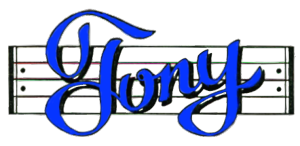 P.S.  I invite you to share this with your friends and family. And let's stay connected. Here are some more ways…
Join my Rhyme and Reason Club
Discover my ebooks on Amazon.com or Smashwords
Subscribe to my Podcast
Connect with me on LinkedIn
Circle me on Google +
Follow me on Twitter
Watch my videos on YouTube
Find me on Facebook
Or use the social media links below