This is the 4th one of Tony's books for kids…"Music Pajamas"
It's one of the "Bedtime Buckaroos" bedtime stories.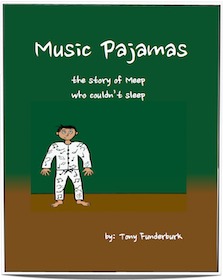 There once was a little kid named Meep who didn't like to sleep.
He thought the whole world would disappear while his eyes were closed.
Could a silly pair of pajamas change Meep's mind about what happened when he closed his eyes? Read the story and look at the pictures to discover the secret of the music pajamas.
Get both the ePub & PDF versions in one download for only $4,
and you'll be able to read "Music Pajamas" on almost any device.