I remember, when I was a boy, some long, lazy summers in eastern Kansas. And today I thought about a place where we fished down by the creek bank in a remote part of some farmland. We used to take our rods and reels, walk about a half mile along the fence line on the tractor trail, and wind through a forest to where the creek flowed nicely just about all summer long.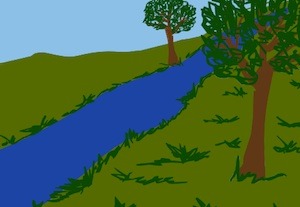 Days didn't seem to fly by, at the time, but now that they're gone, it feels almost like they never happened. But they did happen. And they were so enjoyable I remember even small details to this day. We'd take a net, spread it across the creek between two people, and scoot it up the creek until we had some bait. Usually it was minnow and crawdads. Then, we'd find our spot, where the creek was deeper, and we'd cast out our lines. Then we'd talk and wait.
We almost always went home with some perch for mom to fry up in a pan. And that was served with some vegetables we'd pick right out of the garden just before dinnertime. Now, that was a healthy lifestyle. It sure beats going to those golden arches or sitting under some bell. Tell you what…how about you relax, sit back, enjoy a nice cup of your favorite beverage, and I'll take you…
Down by the creek bank…
Sittin' on a tree stump…
Listenin' to the birds sing…
Lookin' at a frog jump…
Thinkin' lots of nice thoughts…
Sippin' on a sweet tea…
Writin' down a few words…
When they come and greet me…
Watchin' little squirrels run…
Climbin' up the oak trees…
Lyin' in the green grass…
Waitin' for a cool breeze…
Stayin' till it's twilight…
Catchin' me a firefly…
Down by the creek bank…
Life is passin' by.
Stay tuned,

P.S.  I really appreciate your support here on my website. Here are some other awesome ways you can show your support, keep my words and music flowing, and keep me off the streets.
Get my ebooks for kids on Amazon.com
Subscribe to my Podcast
Circle me on Google +
Like my fan page on Facebook
Follow me on Twitter
Watch my videos on YouTube
Subscribe to this blog