Wow! It's hard to believe. But it's been 25 years since I recorded my first collection of Christian songs and sold those CD's all around the country. And it all started with a song about consequences. Inspired by a talk show host and the words he said to end his nightly show.
Do right and risk the consequences.
It's ironically odd to say there'll be consequences for doing right. But these days, more than ever, it's true. Because the world would rather do wrong and get away with it than do right and risk anything.
But the reason I'm sharing this with you today is because the talk show host I'm talking about died last month. Everyone who knew him has the assurance that he went to Heaven. And we're all glad of that. But he left behind a widow. Her name is Cheryl. And she's a kind woman who loves Jesus, has served over 20 years as a pastor's wife and homemaker, and is now without her husband and earthly provider.
So, I came up with the idea to sell my last hidden stash of Do Right cd's and send her all the proceeds (minus the shipping costs). I'm calling this my Do Right 25th Anniversary Cheryl Care Package sale.
The price will be $20. But supplies of these original, first-run Do Right CD's are limited. After they're gone, that's it.
Get your copy, today. And help support a woman who deserves your help more than you might know. Click or tap the pic below to get a CD and help out.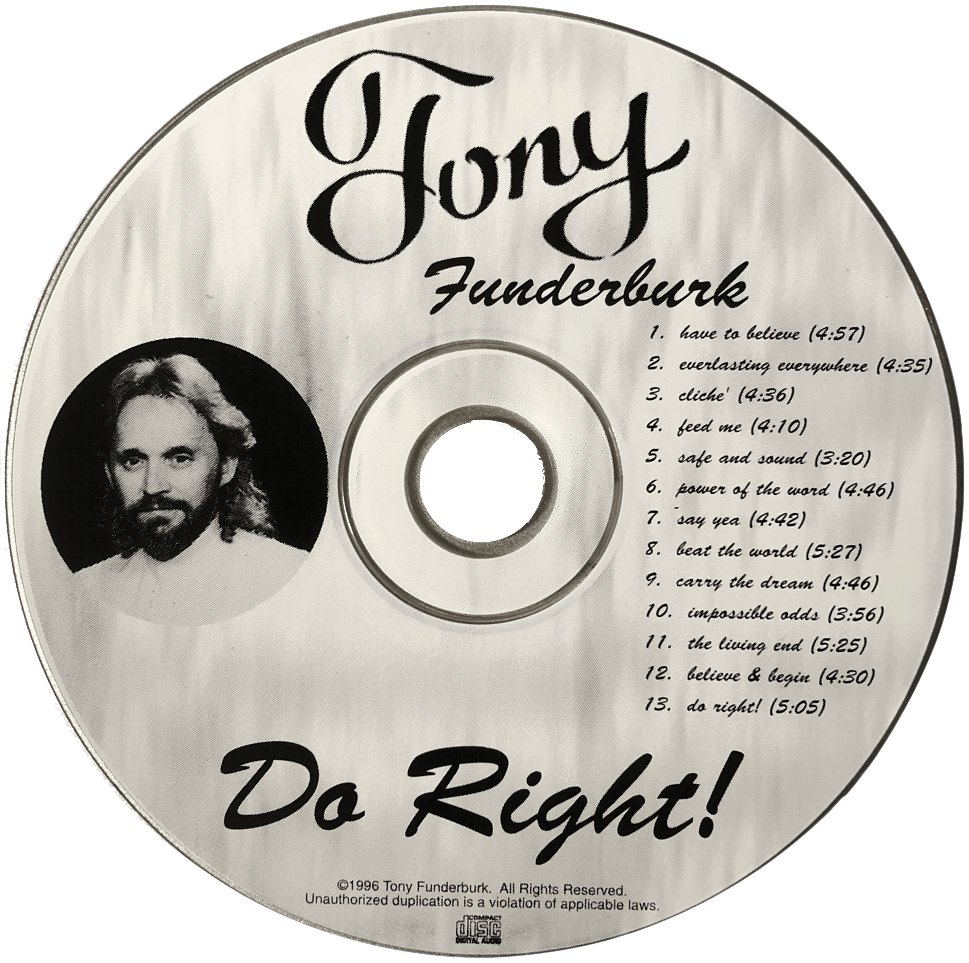 Do Right
There's a blue streak like a paintbrush stroke through my heart.
It's a cool light and it tears the darkness apart.
I'm so near it; though it pierces me I don't fear it.
Like a needle; the Word sews into my spirit.
There's a rumble; like a three-day hunger or thirst
Deep inside me, and I think that maybe I'll burst.
Like a freight train on a one-way track through the canyon,
Payin' no mind to the walls of worldly opinion.
Do right.
And risk the consequences.
Do right…whatever you do.
Do right.
And don't you stand on fences
Now whatever you do, with all of your might, Do Right!
There are choices that we're given freedom to choose.
But use wisdom; with your choices you could abuse.
Simple words could lead little lambs to slaughter.
And where that ends; you will always long for water.
Do right.
And risk the consequences.
Do right…whatever you do.
Do right.
And don't you stand on fences
I'm not willing to just let it slide.
No, I just want you to get the point.
And if it boils up inside you and you find that you're all out of joint,
And you might….
You'd better….you'd better do right
inst…repeat chorus to end
© 1996 Tony Funderburk
You'll still be able to get all the Do Right CD songs on a "second run" disk HERE. Or get them all in a super secret link in the Do Right book HERE.
Stay tuned,