You Gotta Break Some Rules – But not the good ones
Just because some authoritative power makes a rule doesn't make the rule a good one, a just one, or a fair one. In fact, many rules, policies, and laws are downright bad. But it takes some thinking and pondering and examining to know which rules are good and which are bad. Before you decide to break some rules you'd better be sure you're on the right side. Is that possible?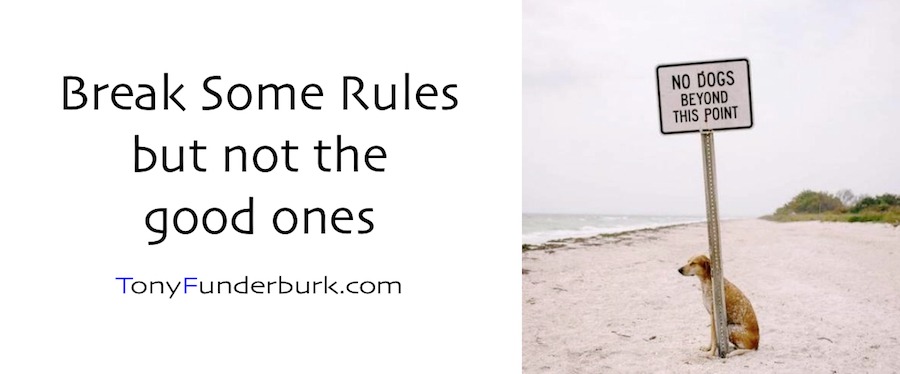 Maybe you have a lot of self-imposed rules for your life and/or the life of your loved ones. And maybe it would be a good idea to sit down, today, and re-examine whether they're good ones or not. Here's a suggestion on how to know…if your rule shows your love for someone else, it's a good one. If it doesn't show love, or if it actually displays selfishness, it's a bad one. That's pretty much it. Simple. Right? Well, that depends on if you know how to show love. Do you?
If you're not sure you're any good at showing and sharing love, then I have another simple answer for you. That rule you'd like to impose on someone else…would you like it imposed on you? If you conjure up a silly notion in your head for how someone else should live and treat you, are you willing to live that way and be treated that way? If not, you might be making up a bad rule. Just think of it this way, and say this to yourself: "If I don't want that done to me, I shouldn't do it to someone else." Then, get together with the ones you love and talk over what's going on. If you realize the rules aren't working, somebody needs to say…
Let's Break Some Rules
We play it all so careful.
We live within our means.
We don't wear lots of jewelry or ninety dollar jeans.
We do our own repair work.
We water own lawn.
We've minimized the risks we take,
But now the thrill is gone
So let's break some rules tonight…
Incite a riot in our hearts.
Let's break some rules tonight…
Get someone else to play our parts.
Let's create some tension;
Go out and grab some danger,
And they make say we look like total fools,
But at least for awhile…let's break some rules.
We curse those Monday mornings
We gripe about our pay
We say we'll make some changes
But it just can't be today.
Chorus…
Well, who's gonna do it if we don't?
Who'll make it better if we won't?
I wonder…don't it make you wonder?!
chorus…etc.
© 1987 Tony Funderburk (April 29)
(psst…if you wanna hear an old recording of this song, Subscribe to my Podcast)
Stay tuned,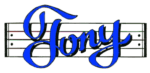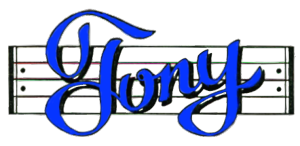 P.S.  Your support for my Words and Music means the world to me. Please share them with others. Here's how…
Discover my ebooks on Amazon.com or Smashwords
Subscribe to my Podcast
Connect with me on LinkedIn
Circle me on Google +
Follow me on Twitter
Watch my videos on YouTube
Find me on Facebook
Or use the social media links below