There are three things you can do right now to show love. If love is in you, it shouldn't be difficult. If love is in you…and you're not just tossing the word "love" out there to hear it crash to the ground like a "clanging cymbal"…then you'll do these three things if you aren't already. OK, ready? Here they are: Believe Hope Endure.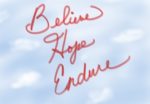 Do you believe? If so, in what? Do you have hope? If so, what in? Do you endure what life puts on your shoulders? If so, where do you get your strength? If God is the answer to these questions, you are truly a person of love. You're a person who surely knows what love is…and where it originates. You aren't just making noise about love.
And also if your answer is God, then you and I are connected on a level this world can only dream of but never attain. We'll know and share love for eternity. Last time I looked there's nothing longer than that.
Believe Hope Endure
If you believe, your love will never die.
You can have hope above the earth and sky.
When you endure, your love becomes secure.
You can live with God up where angels trod,
When you believe and hope and endure.
Stay tuned…