I see bedtime stories for kids before I write them…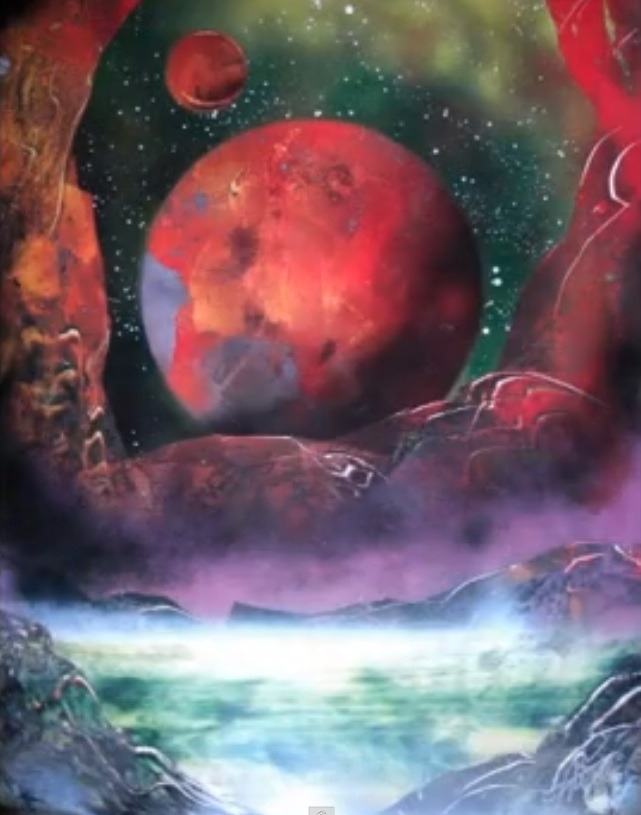 I don't take credit for this image, though…
First of all, I'd like to say I'm not a "new age" kind of writer. I don't go for the metaphysical being the answer to any of life's questions. But I do like a lot of the art and music that's been classified as "new age". Like the picture above. It looks like a view of a planet from the high reaches of another planet. You can almost envision yourself standing on the ledge of some mountain above the clouds looking out at that awesome other orb…which, if it was that close would cause so much gravity havoc, you couldn't possibly stand there for long.
But I digress..
I love the color combos and the whimsical perspective. And that brings me back to my bedtime stories for kids connection. Maybe it has something to do with the sparkling lights I've always seen since my migraine headaches started back in my early twenties…
…or maybe it's some sort of heightened awareness of the neurons firing in my brain just after getting out of bed…
…but whatever it is…I've always had this visual connection to words. They're not merely ideas. They're pictures to me. And I do my best to describe those pictures. I never quite get there. It's sort of like looking at a beautiful landscape when you're on vacation. You think "hmm…I'm gonna take a picture of that to show to everyone who couldn't be here with me." But the picture is never quite as awesome as actually being there. Well, that's my bedtime stories.
By the way…here's a video of how that picture up there was created. Talk about a cool way to convey the pictures in your head…
(sorry, this video is no longer available)
Stay tuned,


P.S.  Get my children's books on Amazon.com
Add my page on Google +
Like my fan page on Facebook
Follow me on Twitter
Watch my videos on YouTube