If you've read all or most of my Bible based articles here on my website, I hope you understand how I'm writing to you with "a spirit of gentleness".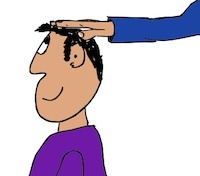 Sometimes my words may sound a little more heavy-handed, but that's when I'm sharing a major point from God's perspective…not merely my opinion. For the most part, though, I simply want to share the reasons for my faith, hope, and love…with gentleness and respect.
Paul wrote to the Corinthians of his day and said "therefore I urge you, imitate me". He was speaking to them as their spiritual father. But he wasn't a do-as-I-say-not-as-I-do kind of father. He didn't want them to imitate him in ways he didn't imitate Jesus. He knew that in order to pass on the news of the kingdom of God he had to show how it had been given to him.
And Paul knew a good father would have to occasionally discipline his children. So he'd say some things straight out sometimes. Like how he told them, "as my beloved children I warn you" and how he said "some are puffed up". Paul didn't sugar-coat or dilute God's word. But his faith, hope, and love come shining through every chapter of every letter he wrote to his followers…
And like any good father, Paul preferred love over discipline. I think that's why he wrote "Shall I come to you with a rod, or in love and a spirit of gentleness".
That makes me think back to my own childhood when my brother and I would sometimes push our luck when we were supposed to be going to sleep. And my father would call out from his room, "If I have to come in there, I'll bring my belt." In no time at all a spirit of gentleness whisked us off to Dreamtown.
In Faith, Hope, and Love…

P.S.  I really appreciate your support here on my website. Here are some other awesome ways you can keep my words and music flowing. Get my ebooks for kids on Amazon.com or Smashwords
Subscribe to my Podcast
Circle me on Google +
Like my fan page on Facebook
Follow me on Twitter
Watch my videos on YouTube
Subscribe to this blog