I don't remember exactly the first time
I ever wrote a goodnight song…
…but it might very well be the one you'll find the lyrics to below. This isn't like my other lullaby songs for kids. In fact, this goodnight song wasn't written for kids. Don't worry…it's still rated G.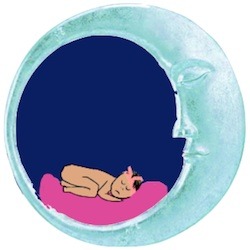 Very often, in my writing life, I've been asked, or told, or requested to write a special poem or song for someone. I freely admit that 99% of the time it was for a female, but I'd like to clarify they weren't all just for the sake of amore. Sometimes the poem or song was simply to capture a special memory, or place, or feeling for them.
One such time was back in 1978, when I had just moved back to Texas from a 5 year stay in Kansas. I was meeting and making new friends in an apartment complex, and slowly but surely they were finding out I was a singer songwriter. I suppose it's hard to hide the sounds a piano makes through thin apartment walls. And I'd play my upright at any opportunity I could find or make.
So, here's how this goodnight song came about…
As it turned out, two lovely young ladies had moved into the apartment below mine, and one day one of them met me on the sidewalk outside. She asked if it was me she had been hearing on the keys. I replied "yes" and apologized if it had been at an inappropriate time. She quickly said "oh no" and told me they had enjoyed hearing me even though the sound was muffled. She also asked if they could come up sometime to hear me sing and play. Eager to meet new people I said yes.
Upon hearing some of my original songs the first young lady said she wished she had a personal lullaby because she'd been having a hard time sleeping at night. As she put it…
"I'd love a goodnight song just for me. I think it would feel like someone was singing right to me, and then I could sleep through the night."
Well, I've always enjoyed a good words and music challenge, so I set my course the very next day as soon as I got home from work. Within two days I completed the song, and sometime the following weekend I played it for her.
It was an immediate hit. Here are the lyrics…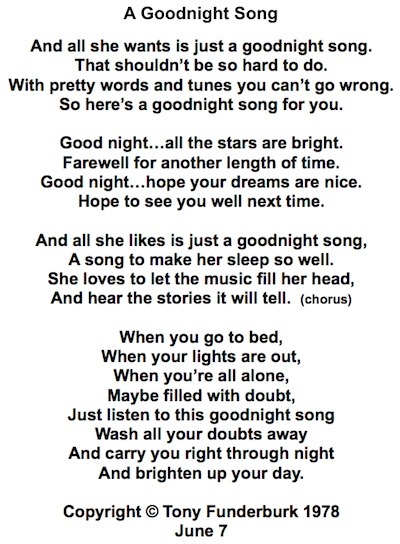 Stay tuned,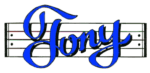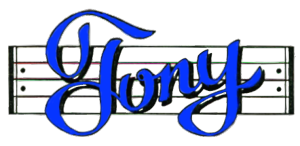 P.S.  Share the rhymes and reasons with your friends and family. And let's stay connected. Like this…
Join my Rhyme and Reason Club
Discover my ebooks on Amazon.com or Smashwords
Subscribe to my Podcast
Connect with me on LinkedIn
Circle me on Google +
Follow me on Twitter
Watch my videos on YouTube
Find me on Facebook
Or use the social media links below