The Dragon Danced At Dawn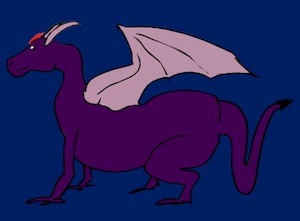 The dragon danced at dawn
Because the light was nice.
He thought it kept him calm
And made him more precise.
The dragon liked to dance
With no one else around.
That way no one was hurt
When his tail hit the ground.
He danced to dragon songs…
That only he could hear.
If other creatures came,
He'd blink and disappear.
But one day, as he danced,
The dragon didn't see
A little girl walk up
And sit next to a tree.
She watched the dragon dance
And how much fun he had.
She came here feeling blue
But now was feeling glad.
The little girl's head bobbed,
And then she tapped her toes…
And then she clapped her hands…
And then the dragon froze.
He slowly turned around
To see what made the noise.
He'd never seen or heard
Of human girls or boys.
He looked down by the tree.
The girl looked back and smiled.
"What could it be?" he thought…
"This creature in the wild."
The little girl stood up
And said "How do you do?"
The dragon jumped ten feet
As if someone yelled "boo!".
The dragon blinked his eyes
And quickly disappeared.
The little girl said, "Hmm…
That certainly is weird."
"Hey, dragon!" she called out…
"You shouldn't be afraid.
Come back and dance some more.
I'll sit here in the shade…
And I won't make a sound.
You'll hardly know I'm here.
There really is no need
For you to disappear."
The dragon had climbed up
Onto a pine tree limb,
And he could still see her,
But she could not see him.
He watched her as she talked
And thought she seemed sincere,
But still he wasn't sure
If he should reappear.
"I bet you'll laugh at me,"
The dragon blurted out.
"No way," the girl replied,
What I've been thinking 'bout…
Is you can teach me how
To hear your dragon song…
And do the dragon dance
So I could dance along?"
"Together we could dance
Each day right here at dawn.
Who knows? We might be friends.
What do you say? Come on."
The dragon reappeared
And looked her in the eyes.
They seemed quite blue and true
Just like the morning skies.
"You've got a deal," he said.
"I'll teach you how to dance
And hear my dragon song.
I think it's worth the chance."
So then the girl jumped up,
And with a girlish grin,
Said, "Come on, let's start now.
And where do we begin?"
So began the friendship
That to this day goes on…
It started just because
The dragon danced at dawn.
Stay tuned,

P.S.  I really appreciate your support here on my website. Here are some other awesome ways you can keep my words and music flowing.
Get my ebooks for kids on Amazon.com or Smashwords
Subscribe to my Podcast
Circle me on Google +
Like my fan page on Facebook
Follow me on Twitter
Watch my videos on YouTube
Subscribe to this blog