Thanksgiving Day 2014 – Thank Who?
It's Thanksgiving Day 2014, and I'm thankful for so many blessings I don't have time to list them all here in one little article.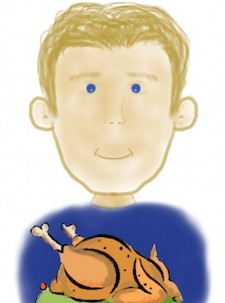 There's an older Christian hymn called "Count Your Blessings", and it reminds us to think about all the wonderful things in life instead of focusing on our troubles. And in America, we set aside a special day each year for giving thanks. Today is that day, and we call it Thanksgiving Day. But just who or what are we thankful to?
I hope you realize there's a living, loving God you can thank for all your blessings. You can't thank a "universe". It has no soul, no spirit, no personality. You shouldn't merely thank other people. After all…how did they get here? And thanking a pantheistic god is an exercise in futility. You'll never know if you're reaching your mark…in spite of believing you can't possibly miss your mark.
On this Thanksgiving Day 2014, I'd like you re-commit yourself to your Creator, if you're a Christian. And I'd like you to set aside your negative bias if you're not. Take a day to examine your own mortality. See if maybe deep down somewhere inside your heart you sense or feel or detect a connection to immortality. If so, I'd like to suggest you take a new look at the Bible with an open mind and heart. You'll discover that God put that feeling in your heart. He wants you to know you're an eternal being. Not in the body you currently inhabit…but in either a glorified body in Heaven, or in a formless soul forever separated from the source of life, your Creator.
Thank you for reading my words. Thank you for allowing me to come into your world, your computer, your mind for a few minutes. My prayer for you is to know the peace of God that surpasses all understanding. And whether you're a Christian or someone still seeking the Truth, I'm thankful to God for your life. Not just this Thanksgiving Day 2014, but every day you live.
Stay tuned…