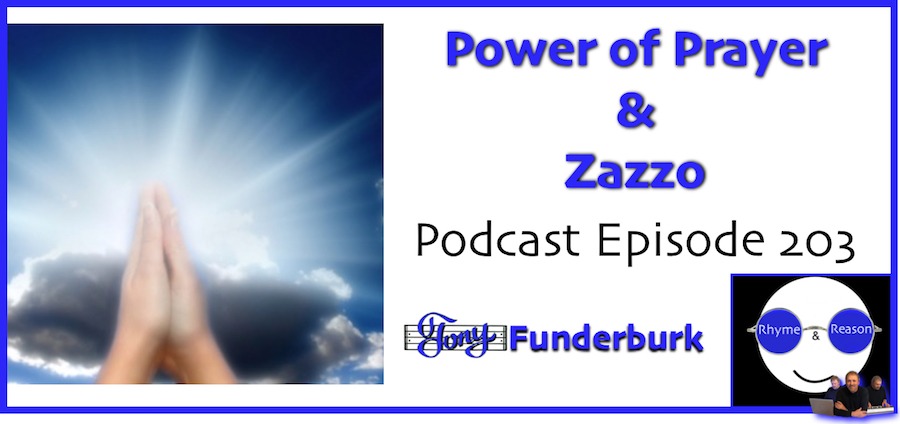 Podcast: Play in new window | Download | Embed
Tune In On iTunes Apple Podcasts | Android | Email | Google Podcasts | Stitcher | TuneIn | RSS | Subscribe on iTunes
In this episode I share how powerful prayer is. And it's a message I take to heart as I'm dealing with the loss of my little buddy, Zazzo, an amazing Labrador Retriever. He was my closest buddy for a little over 15 years, and he finally had to give up his soul last Saturday. So, prayer is vitally important to me and my wife right now.
Here are the lyrics to the song in this podcast episode. Of course, if you'd like to hear the song, you'll need to listen to the podcast. Sneaky little devil, ain't I? But that's how it works, so check it out without further delay.
Power of the Word
So you've been thinking that you've got a whole lot to fear
And you keep asking, "What on earth am I doin' here?"
Well I wouldn't tell you it's as gloomy as you've heard
You just need the power of the Word
I know you've heard that if at first you don't succeed
Just keep on trying and you're bound to fill the need
But you don't believe all that stuff applies to you
And without the power what can you do
Well the power of the Word takes an ordinary bird
And it gives him songs to sing and wings to soar
With the power of the Word even when your vision's blurred
All your dreams will be fulfilled forevermore
Numbers are crunching and seconds are ticking on
Your hopes are fading until you wonder where they've gone
But you wouldn't worry that your life could be deterred
If you had the power of the Word
Chorus
And if you're asking, "What's in it for me?"
Well, give up your soul and I think you will see….
Eternity…eternity…eternity……….
instrumental…repeat chorus to end
© 1993-2018 Tony Funderburk
---
Subscribe to the Rhyme and Reason Podcast and make it easy to get each episode delivered right to you. Like this…
Subscribe to
Rhyme and Reason with Tony Funderburk
Or subscribe with your favorite app by using the address below
Stay tuned,