Knowing right from wrong
Back in the 80's, when I was a full-time professional musician in venues all across America, one of my good friends and I would go out to clubs and "check out the ladies". By the way, my friend was an atheist (or agnostic depending on his mood), and didn't think about things like whether what we did and said were right or wrong. To him, they were just what we did or said. Nothing more. And I, knowing right from wrong, didn't press the issue. I just enjoyed our "guy time" and of course the babe watching. What can I say? The all-American-red-blooded boy ran deep through my veins.

Podcast: Play in new window | Download | Embed
Tune In On iTunes Apple Podcasts | Android | Email | Google Podcasts | Stitcher | TuneIn | RSS | More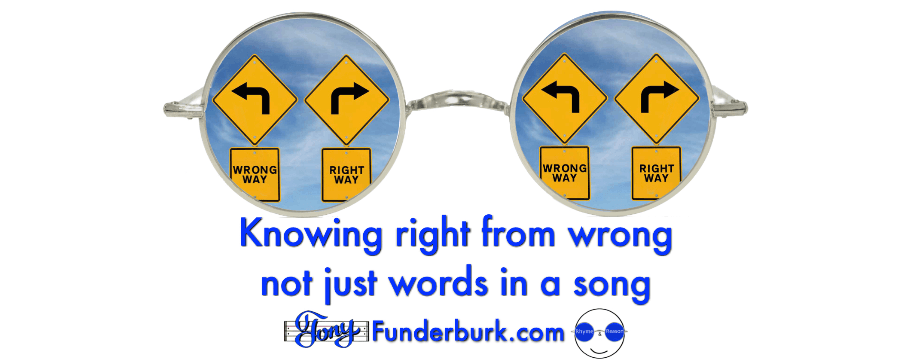 Knowing right from wrong hasn't always been my guiding force.
It's sad how often Christians just let the world off the hook. We let things slide until they slide off a high cliff. And then we wonder how that cliff got there. Even though we've decided to trust God and the saving grace of His Son, Jesus, we don't wanna "make waves" and lose friends.
Ironically, that's the exact recipe for losing friends…forever.
I don't remember how many times I'd let my friend express subtle (and not-so-subtle) innuendos about the beautiful women we watched…and simply go along with it. In fact, I'd add my two cents worth to it by figuratively drooling and making comments of my own.
And so my friend never felt guilty.
But one day I returned to my Christian principles.
After I'd been married a few, short years, my friend visited my wife and me in Colorado. And some of his atheistic/agnostic opinions popped into the conversation. But I didn't let them slide. And I voiced my opposing opinion. Not surprisingly, he took offense, even calling me "arrogant" in my uncompromising view. (Even though his view was the uncompromising opposite)
Knowing right from wrong gave me the decided advantage, regardless of his refusal to concede any point whatsoever. For example, he (and another mutual friend) even found ways to defend the brutal rape of woman when I asked them if it would ever be absolutely right to do that.
Defended rape. Let that sink in.
When you don't know right from wrong, you've already lost.
Why is any of this important? Why am I talking about it today? Because, when you have people you care about, you tell them the truth. So, it's important to actually KNOW truth. And that makes knowing THE Truth, Jesus, your best resource for helping those you care about.
You might share truth and lose your friend forever…which I apparently did…at least so far. But if you don't share truth, it's almost guaranteed you'll lose an unbelieving friend forever.
So, the results are worth the risk. Unless you don't wanna make waves.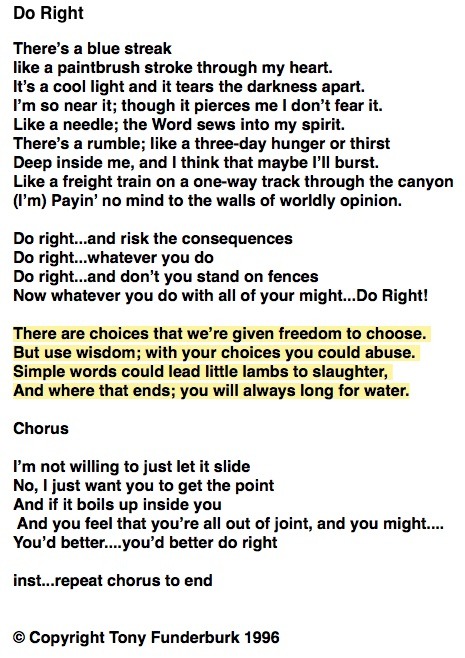 Stay tuned,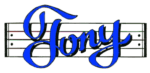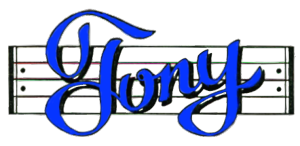 Subscribe to Rhyme and Reason on your favorite podcast channel and on YouTube.
Subscribe to
Rhyme and Reason with Tony Funderburk
Or subscribe with your favorite app by using the address below